Kingsmen
Swimming & Diving
Cal Lutheran to Participate in Sixth Annual Division III Week
CLU promotes knowledge of Division III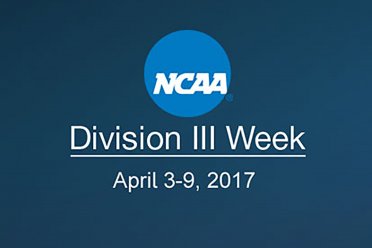 INDIANAPOLIS, Ind. – Cal Lutheran is one of 450 Division III institutions around the country. During the week of April 3-9, all members will host Division III Week, aimed at celebrating what those schools have to offer student-athletes in the classroom, in the field of play and in the community during the 43rd year of the NCAA.
In 2010 the Division III Identity Initiative was introduced. It is described as a place where student-athletes can "follow your passions and develop your potential," within an approach that combines rigorous academics, competitive sports and an opportunity to pursue other interests.
There are currently over 190,000 DIII student-athletes to represent the largest tier of all NCAA membership at the three sponsored levels.
Additionally, on average, student-athletes comprise 24 percent of the student body at Division III institutions with percentages ranging from one to more than 50 percent.
In 2016-17 CLU had 476 varsity roster spots, an increase of 18 from a year ago. Thirty individuals donned the Violet and Gold for multiple programs for the Kingsmen and Regals. Additionally, CLU sponsors numerous junior varsity programs that attract nearly 100 students throughout the year.
The NCAA sponsors 28 Division III Championship events with 14 for men and 14 for women. There are also nine National Collegiate Championships. Overall, CLU sponsors 21 intercollegiate athletic programs, which is above the average (18) of like institutions.
Cal Lutheran is one of the 81 percent (357) of active institutions that is private with 19 percent (82) of DIII schools on public campuses. Across the board the average enrollment of Division III schools is 2,643.
All of the schools that fall in the Division III category are expected to promote the model of discover, develop and dedicate. CLU is right on track with that mantra by succeeding academically and athletically while giving back to the community.
As in years past, Cal Lutheran is excited to use the opportunity to promote the successes of student-athletes and share their experiences of being part of the successes and traditions of CLU.
"NCAA Division III Week is a time to celebrate the successes of our student-athletes who represent Cal Lutheran in 21 sports," Director of Athletics Dan Kuntz shared. "The student experience is enhanced by what can be learned through sport and academics as Cal Lutheran prides itself on promoting growth in both areas." He finished by saying, "Congratulations to the Kingsmen and Regals and we thank you for sharing your talents with all of us."
In 2016 there were 150 student-athletes inducted into the CLU Scholar Athlete Society by holding a 3.40 or higher cumulative grade point average. The number was 10 off of the 2014 record (160) and is expected to be in the same range in 2017. Additionally, numerous student-athletes throughout the year have earned sport specific academic accolades and others will be recognized as 2015-16 SCIAC All-Academic honorees at the conclusion of the spring semester.
CLU teams have been successful on the field, court, course and in the pool as well with numerous programs garnering national rankings in 2016-17. Women's volleyball earned its seventh straight Southern California Intercollegiate Athletic Conference (SCIAC) title in 2016 and advanced to the NCAA Division III National Tournament for the ninth consecutive fall. Four teams have earned spots in the SCIAC Postseason Tournament for their respective sport and others are vying for the same opportunity this spring. CLU has also been represented individually in NCAA National competition in the winter with Benjamin Brewer becoming the first Kingsmen swimmer invited to the NCAA DIII Championships where he became the first NCAA swimming All-America honoree in school history. CLU has a potential to send more student-athletes to Nationals in the spring as teams compete for league titles and PST appearances.
Beyond those two areas, CLU students have also taken time to give back and will extend that opportunity into Division III Week. The Student Athlete Advisory Committee (SAAC) that is headed in 2016-17 by SAAC co-presidents Shelby Kubota and Reagan Chapman, along with the entire group, have put together a campaign to promote 'You Can Play', which promotes the national SAAC commitment to an equitable and respectful environment for athletes without regards to sexual orientation and reminds everyone that "You Can Play" in Division III.
The SAAC has put together an inclusion video with student-athletes and coaches from various programs to promote this philosophy.
Also this week, the SAAC is partnering with the Icla De Silva Foundation and Be The Match Bone Marrow Donor Registry to have a donor registration drive on campus. A representative from Be The Match will be located at the flagpole from 9:00 a.m. to 3:00 p.m. on Monday and Tuesday. On Saturday, Apr. 8 there will be a canned food drive located at baseball and softball.
Finally, the Ullman Commons will be offering sports themed meals and snacks throughout the week in continuation of the tradition implemented in 2013. Food will include hot dogs, pretzels with mustard, nachos, corn dogs and chili tacos.
During the course of the week other student-athlete related materials will be distributed via Social Media (links below) and on www.clusports.com.
Website: Division III Week
CLU Twitter: https://twitter.com/clusports
CLU Facebook: https://www.facebook.com/clusports
CLU Instagram: http://instagram.com/clusports#
Hashtags: #ownthethrone, #clusports, #gokingsmen #goregals, #purplepit #whyD3 #NCAAD3 #D3week