Kingsmen
Swimming & Diving
Eight Kingsmen Earn All-SCIAC Accolades
Most SCIAC selections since 2011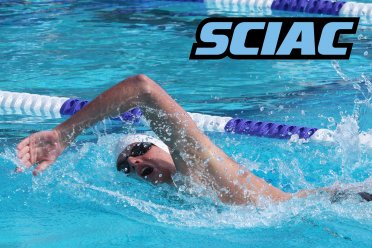 PASADENA, Calif. – After achieving a fourth place finish at the 2017 Southern California Intercollegiate Athletic Conference (SCIAC) Swimming & Diving Championships, the Cal Lutheran men's swimming and diving team had eight Kingsmen earn All-SCIAC honors as announced by the league office last week.
Ben Brewer, Ryan Emili, George French, Jacob Frigard, Jonah Hobbs, Liam McCallum, Thelen McKinna-Worrell, and Zach Zamecki all achieved recognition after turning in at least one podium performance, marking the most honors for CLU since the 2011 season.
Brewer, who was recently selected to compete in the NCAA Swimming and Diving Championships, led the way for the Violet and Gold, earning All-SCIAC in four events while breaking four CLU records. The freshman from Santa Barbara, Calif. made his mark with a new SCIAC, Meet and school record while capturing the individual title in the 1650 free with an NCAA "B" cut time of 15:28.26. Brewer also reached the podium with a second place finish in the 500 free (4:29.12) and a third place finish in the 400 IM (4:01.34), while setting CLU records and NCAA "B" cut times in each event.
Brewer also earned All-SCIAC honors as a member of the 800 Free Relay alongside Emili, Hobbs and Zamecki. The quartet raced to a time of 6:51.38 to place third overall in the event.
Zamecki also had a big meet for the Kingsmen, earning All-SCIAC accolades for his performance in five events while breaking five school records. The speedy junior placed third in both the 50 free (20.66) and 100 free (45.83) while also reaching the podium as a member of the 200, 400 and 800 Free Relays.
French and Frigard joined Zamecki on both the 200 and 400 Free Relays to earn a pair of All-SCIAC selections apiece while McCallum earned his honor as a part of the 400 Free Relay and McKinna-Worrell as a member of the 200 Free Relay.
Both the 200 Free Relay (1:22.64) and the 400 Free Relay (3:03.50) placed second in the meet while breaking CLU records.
Claremont-Mudd-Scripps senior Matt Williams was named Athlete of the Year while Caltech freshman Tom Gallup earned Newcomer of the Year honors. Caltech and head coach Paul Hughes earned Coaching Staff of the Year.
Release: Men's Swimming and Diving All-SCIAC
CLU Twitter: https://twitter.com/clusports
S&D Twitter: https://twitter.com/CLUSwimDive
CLU Instagram: http://instagram.com/clusports#
S&D Instagram: https://www.instagram.com/clu_swimming_diving/
CLU Facebook: https://www.facebook.com/clusports