Kingsmen
Swimming & Diving
Brewer Becomes First Kingsmen Selected to Compete at NCAA Championships
CLU freshman makes waves in first season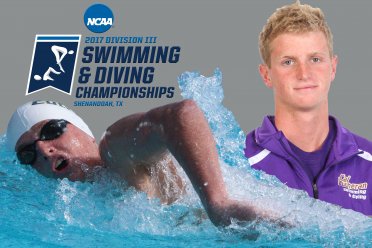 INDIANAPOLIS, Ind. –After reaching the podium four times at the league championships, Benjamin Brewer made more history this week as the first Cal Lutheran men's swimmer to earn an invitation to the National Collegiate Athletic Association (NCAA) Division III Swimming & Diving National Championships. The freshman will compete in both the 500 free and 1650 free on the national level.
At his first Southern California Intercollegiate Athletic Conference (SCIAC) Championships, Brewer earned All-SCIAC in four events. The highlight was a new SCIAC, SCIAC Championships Meet and CLU record 1650 time of 15:28.26 to take home gold. He also medaled in the 500 with a school record swim of 4:29.12 to place second before finishing third in the 400 Individual Medley (IM) by clocking a 4:01.34 to secure another CLU record. Additionally, Brewer was part of a third place 800 Free Relay team that went a 6:51.38 with a split of 1:43.69.
The NCAA Championships will be held at the Conroe ISD Natatorium in Shenandoah, Texas from March 13-17, hosted by the Southern Collegiate Athletic Conference and the City of Shenandoah.
Brewer will be joined by women's swimming and diving teammate Mardell Ramirez who is also competing on the national level for the first time by earning a selection in the 200 free after setting a new SCIAC, Meet and school record in the event as well.
Qualifiers: 2017 NCAA Division III Swimming & Diving
Live Coverage: 2017 NCAA Division III Swimming & Diving Championships Live
CLU Twitter: https://twitter.com/clusports
S&D Twitter: https://twitter.com/CLUSwimDive
CLU Instagram: http://instagram.com/clusports#
S&D Instagram: https://www.instagram.com/clu_swimming_diving/
CLU Facebook: https://www.facebook.com/clusports