Kingsmen
Swimming & Diving
Kingsmen Swim Past Bulldogs, Panthers
CLU finishes multi-dual portion with two wins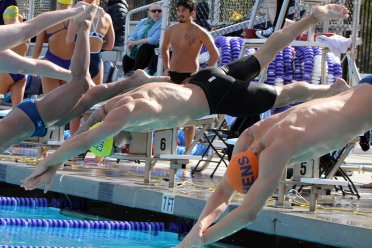 REDLANDS, Calif. –The longest road trip of the season was worth it for the Cal Lutheran men's swimming and diving team as the Kingsmen defeated both host Redlands (117-103) and Chapman (169-31) in the final Southern California Intercollegiate Athletic Conference (SCIAC) multi-dual meet of the season.
CLU went took the top three spots in a pair of events, the 50 freestyle and 200 freestyle, and went 1-2 in the 100 butterfly, 100 free and 500 free.
Jacob Frigard had a big day in the pool, winning the 50 free (21.47) in a tie with teammate Thelen McKinna-Worrell, the 100 fly (52.18), edging teammate Zach Zamecki (52.35), and as part of the 400 Free Relay team of Zamecki, McKinna-Worrell and Ryan Emili as the quartet swam a 3:09.38 to win by more than seven seconds.
Zamecki also had another solid all-around performance with a win in the 200 free after clocking a 1:45.28 to out touch teammates Jonah Hobbs (1:45.50) and Ben Brewer (1:47.53).
In his first year, Brewer continues to do big things between the lines. Today he won the 500 free in 4:42.74, ahead of Hobbs who clocked a 4:44.14, and the 400 Individual Medley (IM) in 4:17.53 to win by over four seconds. Hobbs also swam the 400 IM, finishing in 4:22.38.
To round out the top-three finish in the 50 free, Liam McCallum sprinted to third in 21.83. He also led off the 400 Free Relay team of Davy Thomas, Flavio Filho and George French that teamed up for a finish in 3:17.39.
The final individual win of the afternoon came from Emili whose 100 free time of 48.12 paced the field. McKinna-Worrell was next to the wall in 48.45. Additionally, Emili was the top CLU competitor to finish the 100 breaststroke, notching a swim of 1:03.84.
Thomaswas the first Kingsmen to complete the 100 backstroke by going a 54.83. To start the meet off, Thomas, Jake Venckus, Cesar Vasconselos and McCallum totaled a time of 1:42.75 in the 200 Medley Relay.
On the diving boards, Ricky Mendoza scored in both the one-meter (180.35) and three-meter (132.60) events.
Cal Lutheran (7-3, 6-2 SCIAC) will rest up before the SCIAC Championships begin on Wednesday, Feb. 15. The meet runs through Saturday, Feb. 18 in Commerce with Whittier serving as the host institution.
Results: CLU 117, UR 103
Results: CLU 169, CU 31
CLU Twitter: https://twitter.com/clusports
S&D Twitter: https://twitter.com/CLUSwimDive
CLU Instagram: http://instagram.com/clusports#
S&D Instagram: https://www.instagram.com/clu_swimming_diving/
CLU Facebook: https://www.facebook.com/clusports