Kingsmen
Swimming & Diving
Kingsmen Earn Win Over Caltech
CLU drops decision to Claremont-Mudd-Scripps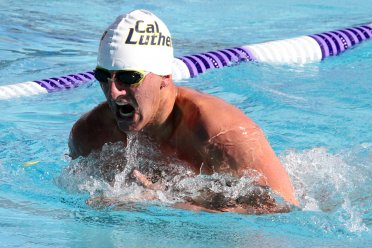 CLAREMONT, Calif. –Today at Claremont-Mudd-Scripps, the Cal Lutheran men's swimming and diving team used 137-75 Southern California Intercollegiate Athletic Conference (SCIAC) victory over Caltech to split at the tri-meet, falling 153-68 to the host Stags.
Ricky Mendoza was a double event winner, taking the top spot on both the one-meter (155.10) and the three-meter diving boards (191.95) today for the Kingsmen.
The only other victory came between the lanes as Jacob Frigard swam a 21.50 in the 50 freestyle to out touch teammate Liam McCallum (22.00) to go 1-2.
Thelen McKinna-Worrell was the top finisher for CLU in the 100 free, clocking a 48.27 to take second overall. George French was next to the wall for the Kingsmen in 49.99.
Swimming together, Jonah Hobbs and Ben Brewer finished the 200 free in 1:46.32 and 1:47.17, respectively. Brewer went on to place third in the 500 free with a swim of 4:45.40. Zach Zamecki produced a time of 4:57.48 in the 500 and the junior also stepped up to the blocks for the 100 butterfly, finishing third in a time of 52.53.
In the 100 backstroke, Davy Thomas recorded a swim of 55.82 to take second place and Hobbs (58.85) competed in the event as well.
The top 100 breaststroke time for Cal Lutheran came from Jake Venckus in 1:06.97 and the fastest 200 Individual Medley (IM) swim of the meet for the Violet and Gold was from Ryan Emili in 2:07.06.
To start the swimming portion of the day, Frigard, Emili, Zamecki and McKinna-Worrell teamed up for the 200 Medley Relay, combining for a 1:39.33, and to close the day out McKinna-Worrell, French, McCallum and Frigard joined forces in the 200 Free Relay, finishing in 1:26.72.
Cal Lutheran (5-3, 4-2 SCIAC) rounds out the multi-dual portion of its schedule on Saturday, Feb. 4 when the squad travels to Redlands to compete against the Bulldogs and Chapman Panthers beginning at 10:30 a.m.
Results: CLU 137, CIT 75
Results: CMS 153, CLU 68
CLU Twitter: https://twitter.com/clusports
S&D Twitter: https://twitter.com/CLUSwimDive
CLU Instagram: http://instagram.com/clusports#
S&D Instagram: https://www.instagram.com/clu_swimming_diving/
CLU Facebook: https://www.facebook.com/clusports