Kingsmen Announce 2017 Soccer Schedule
CLU set to host seven contests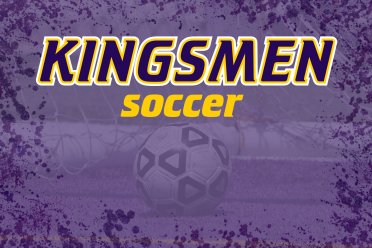 THOUSAND OAKS, Calif. – The 2017 Cal Lutheran men's soccer schedule, released today, features seven home games inside of William Rolland Stadium with a cross-country trip to kick the season off this fall.
The Violet and Gold head to the East coast for opening weekend where the Kingsmen will face a pair of non-conference opponents in Franklin & Marshall (Pa.) and Eastern (Pa.) on Friday, Sept. 1 and Saturday Sept. 2, respectively.
The Kingsmen return to CLU to play under the lights inside of William Rolland Stadium for their Southern California Intercollegiate Athletic Conference (SCIAC) home opener as they take on Whittier on Wednesday, Sept. 6 at 7:00 p.m.
Conference play continues on the road with a match-up against Chapman on Saturday, Sept. 9 at 11:00 a.m. CLU then travels to meet reigning SCIAC champion, Redlands, on Wednesday, Sept. 13 at 7:00 p.m.
The Kingsmen take the pitch in a pair of night contests as they host Caltech and Occidental on Saturday, Sept. 16 and Wednesday Sept. 20, respectively, with both starts scheduled for 7:00 p.m. CLU finishes the week by playing at Pomona-Pitzer on Saturday, Sept., 23 at 11:00 a.m.
In its final non-conference match-up of the regular season, Cal Lutheran is set to host UC Santa Cruz on Wednesday, Sept. 27 at 5:00 p.m. CLU will then host La Verne (Sept. 30) at 5:00 p.m. as part of a doubleheader with the Regals who are scheduled to host Pomona-Pitzer at 7:30 p.m.
Cal Lutheran will encounter a three-game road trip with a trio of conference games against Claremont-Mudd-Scripps (Oct. 4) at 7:00 p.m., Caltech (Oct. 11) at 4:00 p.m. and Occidental (Oct. 14) at 8:00 p.m.
A three-game homestand follows as CLU welcomes Pomona-Pitzer (Oct. 18) at 7:30 p.m., Redlands (Oct. 21) at 7:00 p.m. and concludes with senior night against Chapman on Wednesday, Oct. 25 at 7:00 p.m. The graduating class will be celebrated prior to kickoff.
The Kingsmen round out their regular season at Whittier on Saturday, Oct. 28 at 11:00 a.m.
The 2017 SCIAC Postseason Tournament is scheduled for Nov. 1 and 4 at the site of the highest remaining seed. As always, the 2017 SCIAC PST champion will earn the conference's automatic berth into the NCAA Division III Men's Soccer Championships, which will get underway the following week with the tournament running into early December.
Schedule: 2017 Men's Soccer
CLU Instagram: http://instagram.com/clusports#
M Soccer Instagram: http://instagram.com/kingsmen_soccer/
CLU Twitter: https://twitter.com/clusports
M Soccer Twitter: https://twitter.com/CLUMSoccer
CLU Facebook: https://www.facebook.com/clusports
Hashtags: #clusports #ownthethrone #gokingsmen #theSCIAC #d3s #ncaad3