Yepez Earns NSCAA All-West Region
First Kingsmen honoree since 2008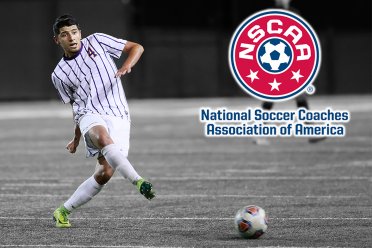 KANSAS CITY, Mo. – Announced recently by the National Soccer Coaches Association of America (NSCAA), Cristian Yepez of the Cal Lutheran men's soccer team was named to the 2016 Division III All-West Region Third Team.
Yepez is the first Kingsmen to earn All-West Region honors since Josh Moskowitz was awarded in 2008.
The sophomore transfer from Oxnard College made an immediate impact on the defensive end in his debut season for the Violet and Gold. Yepez helped the Kingsmen record six shutouts during the year while limiting opponents to a 1.29 goals against average. Individually, Yepez scored two goals, both in the season finale against Caltech, and recorded an assist against Claremont-Mudd-Scripps.
Also earning NSCAA All-West Region honors from the Southern California Intercollegiate Athletic Conference (SCIAC) were Casey ChubbFertal, Josh Haskill, Keoni Yates, Chase Boone and Ben Thompson from Redlands, Marco Saglimbeni and Elliott Braund from Chapman, Jake Skoll and Mehron Abdi from Claremont-Mudd-Scripps, Saul Uribe from La Verne and Voja Maric from Pomona-Pitzer.
Cal Lutheran finished the season 9-8-1 overall and 8-7-1 in conference action to place 6th overall.

Release: 2016 NSCAA All-West Region Teams
CLU Twitter: https://twitter.com/clusports
CLU Facebook: https://www.facebook.com/clusports
CLU Instagram: http://instagram.com/clusports#