Kingsmen Play Final Home Match of Season
CLU falls 1-0 to Claremont-Mudd-Scripps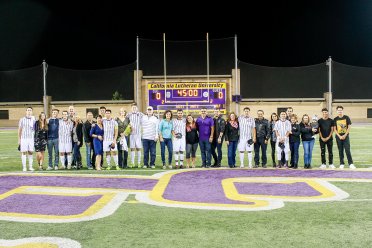 THOUSAND OAKS, Calif. – The Cal Lutheran men's soccer team came up just short against Claremont-Mudd-Scripps in a Southern California Intercollegiate Athletic Conference (SCIAC) match on Senior Night, falling 1-0 in a close fought contest.
The Kingsmen were the first to get a shot on goal when Petter Knoph sent a long ball in from 35 yards out in the second minute, but the attempt was saved by Daniel Cui. Shortly after in the 15th minute, Diego Ortega lined up for a free kick, and sent a bending drive just high, leaving the game scoreless.
Claremont-Mudd-Scripps continued to push on the offensive side of the ball and eventually broke through in the 23rd minute when Patrick Burke made a run into the middle and Mehron Abdi played the ball forward, and Burke was able to put the ball away to take the 1-0 lead with the lone goal of the night.
Cal Lutheran pushed to find an equalizer, coming out firing in the second half. Jaime Alvarado had the first shot on goal early in the second half, coming in the 47th minute. The Stags would counter shortly after but were stopped in the middle on a well-timed slide tackle by sophomore defender Cristian Yepez.
As CLU continued to fight, they nearly capitalized after a free kick taken by Ortega was deflected, and Zach Torres controlled the ball and fired a shot just high, ricocheting off the crossbar and going out of bounds.
Cal Lutheran finished the 90 minutes with three shots on target, Ortega, Alvarado, and Knoph each had one apiece. Eduardo Garcia was in goal and had three saves on the night.
The Stags tallied seven shots total, four of them on target. Cui finished with three saves.
Prior to kickoff, Casey Kurtenbach, Andrew Korshavn, Salvador Orozco, Henry Breheny, Gabe Fernando, Andres Mendoza, and Torres were each honored for their dedication to their team and Cal Lutheran Athletics.
Cal Lutheran (8-8-1, 7-7-1 SCIAC) will head to Pasadena, Calif. on Saturday, Oct. 29 to play an away SCIAC match against Caltech at 1:00 p.m.

Box Score: CMS 1, CLU 0
CLU Instagram: http://instagram.com/clusports#
CLU Twitter: https://twitter.com/clusports
CLU Facebook: https://www.facebook.com/clusports