CLU Shuts Out Sagehens
Kingsmen win third straight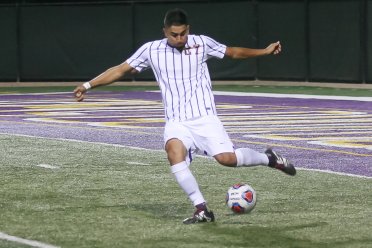 THOUSAND OAKS, Calif. – The Cal Lutheran men's soccer team returned to Rolland Stadium on Saturday to take on Pomona-Pitzer in a Southern California Intercollegiate Athletic Conference (SCIAC) matchup, defeating the Sagehens 1-0 in a close-fought 90 minutes.
The first meeting between these two teams earlier in the season was a fast paced and high pressure offensive match that finished with the Sagehens winning 4-3. Saturday's match was a much different battle, as both teams had strong defensive showings.
The lone goal of the night came in the 51st minute when captain Gabe Fernando played a perfect ball into the middle to fellow captain Brandon Kearney, who put the ball away with a high-powered strike off the goalkeeper and into the back of the net.
Shortly after, Kearney nearly added another goal to his tally in the 67th minute when he sent the ball toward the upper left corner but Sagehen goalkeeper Ben Mitchell dove and got just enough of the ball to tip it up off the crossbar, ending the attack. Mitchell had three saves on the night.

CLU finished with 12 shots total, four of them on target. Shots on goal came from Nico Sabbattella, Fernando, and Kearney. Eduardo Garcia contributed six saves between the posts for the Kingsmen, including a crucial stop in the 15th minute when Connor Ford fired a one-time shot toward the top of the net, keeping the score locked in at 0-0 until Kearney put the Violet and Gold ahead.
Cal Lutheran (8-7-1, 7-6-1 SCIAC) will be back inside Rolland Stadium on Monday, Oct. 24 at 7:00 p.m. to take on Claremont-Mudd-Scripps. Prior to the match, seven seniors will be recognized for their commitment to their team and Cal Lutheran athletics.

Box Score: CLU 1, PP 0
CLU Instagram: http://instagram.com/clusports#
CLU Twitter: https://twitter.com/clusports
CLU Facebook: https://www.facebook.com/clusports