Kingsmen Take Down Leopards
Brandon Kearney scores in 64th minute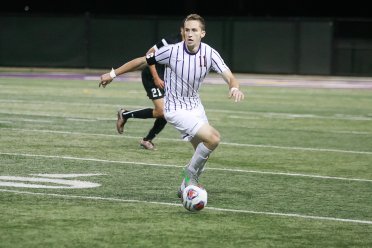 LA VERNE, Calif. – The Cal Lutheran men's soccer team defeated the second place La Verne Leopards 1-0 in a close-fought Southern California Intercollegiate Athletic Conference (SCIAC) match on Monday night.
Offensive Highlights: The Kingsmen offense came out firing against the Leopards, finishing with a total of 15 shots, seven of them on target. The lone goal of the match came off of the foot of Brandon Kearney in the 64th minute, his fifth on the season. Shots on goal also came from Andres Mendoza, Jaime Alvarado, and Max Sharpe.
Defensive Highlights: The Cal Lutheran defense was locked in, keeping the Leopards silent for the full 90 minutes. Monday's match marks the fourth shutout for the Kingsmen defense this season, their third in conference play. Eduardo Garcia was in between the posts for the Violet and Gold and tallied three saves on the night.
The Opponent: La Verne finished with 11 shots total, three of them on target. Briley Venti contributed one shot on goal while Nathan Gonzalez finished with two. Josh Ramirez was in goal for the Leopards and recorded six saves on the night, tying his season high.
Cal Lutheran (7-7-1, 6-6-1) will return to their home turf inside Rolland Stadium on Saturday, Oct. 22 at 7:30 p.m. to take on Pomona-Pitzer.
Box Score: CLU 1, LV 0
CLU Instagram: http://instagram.com/clusports#
CLU Twitter: https://twitter.com/clusports
CLU Facebook: https://www.facebook.com/clusports