Kingsmen Ward Off Whittier
Ortega scores game-winner in 66th minute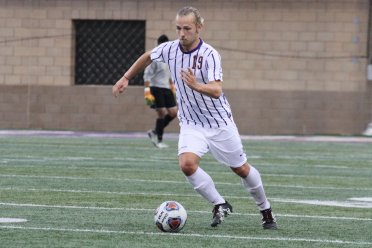 THOUSAND OAKS, Calif. – The Cal Lutheran men's soccer team warded off a pesky Poets squad to win a 3-2 thriller over Whittier on Saturday evening at Rolland Stadium.
The Kingsmen controlled possession for much of the match, including the early going, however Whittier would be the one to strike first after capitalizing on an opportunity in the 21st minute of action.
Rest assured, CLU remain composed and provided the equalizer not long after. Henry Breheny lobbed the ball from the right side of the pitch into the box where a sprinting Max Sharpe headed it into the goal.
With all of the momentum on their side, Jesse Gallardo gave the Kingsmen a 2-1 lead right before halftime with a powerful shot that deflected off the post and into the net.
In the 58th minute, the Poets stunned the crowd with a tying goal of their own after James Suri broke away from his defender and fired a shot past the keeper.
Looking to avoid a second overtime affair with Whittier this season, the Kingsmen pressed offensively and had a handful of close looks at the goal by Nico Sabbattella.
In the 66th minute, as the fog began to thicken, Brandon Kearney raced down the middle of the pitch and flipped a pass over to Diego Ortega who rifled a shot into the right corner of the goal for the game-winner.
CLU finished with an incredible 28-11 shot advantage and edged the Poets 7-4 in corner kicks. A quartet of Kingsmen in Andres Mendoza, Kearney, Ortega and Sabbattella recorded four shots each while the trio of Elmer Molina, Gallardo and Sharpe added three. Eduardo Garcia improved to 2-2-1 in goal for the Violet and Gold and tallied three saves.
Cal Lutheran (6-7-1, 5-6-1 SCIAC) heads to La Verne for a conference road match this Monday, Oct. 17 at 7:00 p.m.
Box Score: CLU 3, WC 2
CLU Instagram: http://instagram.com/clusports#
CLU Twitter: https://twitter.com/clusports
CLU Facebook: https://www.facebook.com/clusports