No. 13 Redlands Blank Kingsmen
First-place Bulldogs top CLU 1-0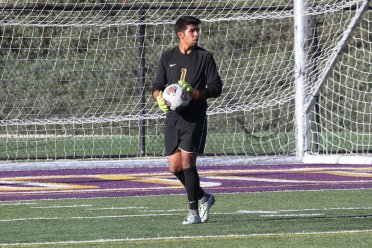 REDLANDS, Calif. – The Cal Lutheran men's soccer team faced a tall task on Monday night, traveling to No. 13 Redlands for a Southern California Intercollegiate Athletic Conference (SCIAC) matchup where the Kingsmen fell by a narrow score of 1-0.
Offensive Highlights: After being outshot 10-2 in the first half, the Violet and Gold matched the Bulldogs shot-for-shot as both teams tallied 11 in the second half. Jaime Alvarado led CLU with four shots, including three on target, while Diego Ortega and Henry Breheny each added two apiece.
Defensive Highlights: Eduardo Garcia recorded a career-high and season-high for the Kingsmen this season with seven saves in front of the net.
The Opponent: The lone goal of the game came in the 17th minute off the foot of conference leading scorer, Chase Boone, who found the back of the net for the 10th time this season. Kayvon Parsa finished with a game-high five shots and Ben Thompson tallied four. Goalkeeper John Melito totaled six saves.
Next Up: Cal Lutheran (5-7-1, 4-6-1 SCIAC) will return to the friendly confines of Rolland Stadium for a match against Whittier this Saturday, Oct. 15 at 5:00 p.m.
Box Score: UR 1, CLU 0
CLU Instagram: http://instagram.com/clusports#
CLU Twitter: https://twitter.com/clusports
CLU Facebook: https://www.facebook.com/clusports