Kingsmen Rally to Tie Panthers
Mendoza scores fifth goal of the season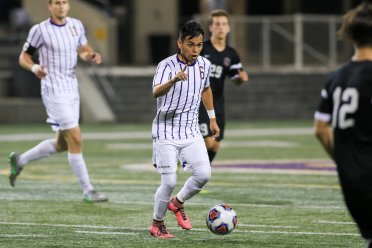 ORANGE, Calif. – After falling behind 2-0 in the first half, the Cal Lutheran men's soccer team rallied for two second half goals to force overtime but wound up settling for a draw with Chapman at Wilson Field in Southern California Intercollegiate Athletic Conference (SCIAC) action on Wednesday night.
Offensive Highlights: Despite the early deficit, the Kingsmen never wavered and pressed offensively in the second half. Diego Ortega netted his second goal of the season to put CLU on the board in the 65th minute after Cristian Guzman found him out in front. The Violet and Gold outshot the Panthers 9-5 in the second half and were peppering the goal until Andres Mendoza finally converted the equalizer in the 84th minute. In the third overtime of the year, CLU would settle for a draw. Guzman led the way with a game-high four shots while Brandon Kearney and Chris Ortiz added two apiece.
Defensive Highlights: Eduardo Garcia recorded two saves in goal for the Kingsmen after playing all 110 minutes of action.
The Opponent: In the first half, Chapman got on the board in the 15th minute after a hand ball in the box led to a penalty kick that was converted by Sam Rudich. In the 40th minute, Daniel Malikyar added a goal after Marco Saglimbeni passed to Ryan Onart out of the corner, who then crossed it into the box. The Panthers outshot the Kingsmen 16-15 and held an 8-7 edge in corner kicks.
Next Up: Cal Lutheran (5-6-1, 4-5-1 SCIAC) continues conference road action against Redlands on Monday, Oct. 10 at 7:00 p.m.
Box Score: CLU 2, CU 2 (2OT)
CLU Instagram: http://instagram.com/clusports#
CLU Twitter: https://twitter.com/clusports
CLU Facebook: https://www.facebook.com/clusports