Tigers Scrape Past Kingsmen
Andres Mendoza scores his fourth goal of the season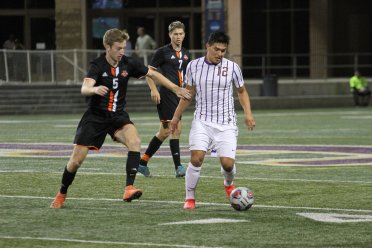 THOUSAND OAKS, Calif. – On Monday night the Cal Lutheran men's soccer team returned to their home turf at William Rolland Stadium to take on Occidental in a Southern California Intercollegiate Athletic Conference (SCIAC) match. The Tigers struck first in the 39th minute and ended up taking the contest with a 2-1 victory.
The first 30 minutes were anybody's game as both teams wrestled back and forth for possession of the ball, each team creating opportunities. Occidental had the first shot on goal in the 12th minute when Grayson Burdon fired a rocket toward the upper left corner that Eduardo Garcia dove to deflect upwards and out of play.
The Tigers found the back of the net first when Ben Simon launched a ball from 35 yards out that soared over the Kingsmen defense to give Oxy the early lead. CLU kept fighting as Jaime Alvarado fired off a shot in the 43rd minute that Oxy goalkeeper Dante Amodeo parried upwards, thwarting the Kingsmen attack. Casey Kurtenbach nearly tied the match in the 45th minute on a one-time strike off the pass from Brandon Kearney but the ball sailed just high, leaving the game at 1-0 going into halftime.
Both teams came out firing in the second half but the Tigers capitalized first and scored in the 62nd minute when Burdon scored the deflection off of a shot by Elijah Remy. The Violet and Gold however, would score a goal of their own in the 84th minute when Andres Mendoza gathered the rebound off of the shot from Diego Ortega, and sent the ball into the lower right corner.
The Kingsmen finished the match with 16 shots total, seven of them on target, while the Tigers finished with 21 total, eight on target. Garcia tallied six saves on the night for CLU.
Cal Lutheran (5-6, 4-5 SCIAC) will be back in action on Wednesday, Oct. 5 at 4:00 p.m. when they head to Chapman for an away SCIAC match.
Box Score: OXY 2, CLU 1
CLU Instagram: http://instagram.com/clusports#
CLU Twitter: https://twitter.com/clusports
CLU Facebook: https://www.facebook.com/clusports