Kingsmen Finish Eighth at SCIAC Championships
CLU concludes conference competition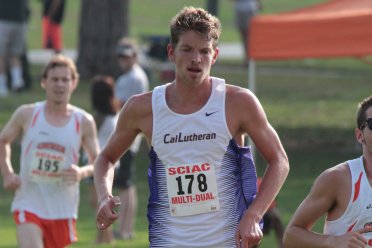 CHINO, Calif. – On Saturday morning the Cal Lutheran men's cross country team competed in the Southern California Intercollegiate Athletic Conference (SCIAC) Championships, placing eighth overall and defeating La Verne in head to head matchups.
Timmy Kahovec continued his strong junior campaign as he finished first for the Kingsmen with a time of 27:34.69, finishing 32nd overall in a field of over 130. Christian Rider crossed the line second for the Violet and Gold with a finishing time of 28:21.85, eclipsing his mark set the previous year by nearly three minutes. Alex Johnston came in shortly after, finishing third for CLU with a time of 28:41.40.
Henry Friederichs took on the Prado Park course for the first time in his career, finishing with a time of 29:07.11. Daniel Tustin posted a final time of 29:53.67, shaving off over 10 seconds from his mark set last year in the SCIAC Championships.

Also competing for the Kingsmen were Michael Miller (30:17.39), Rigo Baza Carillo (30:56.04), Miguel Miguel (30:56.61), Zachary Sergey (30:59.58), Romelo Casanave (31:45.20), Tyler Tvelia (32:00.52), and Connor Richter (41:05.31).
"The Kingsmen showed a lot of heart today on the course and every single person fought for every spot," said assistant coach Brett Halvaks. "I am looking forward to two more weeks of great training and can't wait to see how we perform at the Division III NCAA West Regionals."

Cal Lutheran will return to the course on Nov. 12 for the NCAA Div. III West Regional in Salem, Ore., hosted by Willamette.
Results: CLU - 8th
CLU Instagram: http://instagram.com/clusports#
CLU Twitter: https://twitter.com/clusports
CLU Facebook: https://www.facebook.com/clusports