Kingsmen Compete in Pomona-Pitzer Invitational
Season-high 14 Kingsmen suit up to race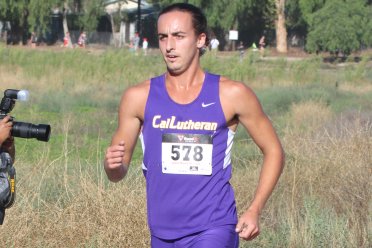 CLAREMONT, Calif. – The Cal Lutheran men's cross country team headed south to race against NCAA Div. II, Div. III and NAIA teams at the Pomona-Pitzer Invitational in Claremont, Calif. The Kingsmen navigated the 8K course with an overall average time of 27:54.49, beating their mark set last year by over 10 seconds.
Timmy Kahovec led the Kingsmen with a time of 27:15.76, shaving off 13 seconds from his time on the same course last year. Christian Rider was the second finisher for the Violet and Gold, coming in with a 27:35.20.
Also racing for CLU were Henry Friederichs (28:10.35), Daniel Tustin (28:14.09) Romelo Casanave (28:17.01), Alex Johnston (28:40.77), Michael Miller (28:49.61), Zachary Sergey (29:04.40), Rigo Baza Carillo (29:07.56), Miguel Miguel (29:52.73), Teerth Patel (29:54.74), Tyler Tvelia (31:06.47), Oscar Alvarado (34:02.01), and Connor Richter (38:41.73).
Cal Lutheran will be back in competition on Saturday, Oct. 29 to race in the SCIAC Championships in Chino Hills, Calif.
Results: Pomona-Pitzer Invitational
CLU Instagram: http://instagram.com/clusports#
CLU Twitter: https://twitter.com/clusports
CLU Facebook: https://www.facebook.com/clusports