Kingsmen Race at SCIAC Multi-Duals
CLU begins SCIAC competition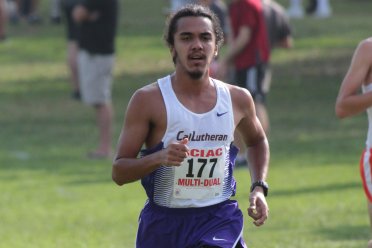 LA MIRADA, Calif. – On Saturday morning the Cal Lutheran men's cross country team traveled south to compete in their first Southern California Intercollegiate Athletic Conference (SCIAC) race of the year. Thirteen members of the team suited up to take on the heat and finished with an average time of 28:16.12.
Timmy Kahovec led the way for the Kingsmen in the 8K with a total time of 27:28.60, eclipsing his mark set at the SCIAC Multi-Duals last year by just under a minute. Kahovec placed 36th overall in a field of over 125 competitors.
For the third consecutive race Christian Rider was the next finisher for the Violet and Gold, posting a time of 28:10.22, beating his 2015 mark by four minutes. Senior Daniel Tustin was close behind, finishing with a time of 28:20.87. Other scoring times came from Romelo Casanave (28:40.19), Alex Johnston (28:40.72), Henry Friederichs (29:22.58), and Rigo Baza (29:55.16)
Also racing for CLU were Michael Miller (30:08.11), Teerth Patel (30:15.31), Zachary Sergey (30:27.93), Tyler Tvelia (31:47.62), Oscar Alvarado (35:06.08), and Connor Richter (40:54.06).
Cal Lutheran will return to competition on Saturday, Oct. 15 at 7:45 a.m. to race in the Pomona-Pitzer Invitational in Claremont, Calif.
Results: CLU - 9th
CLU Instagram: http://instagram.com/clusports#
CLU Twitter: https://twitter.com/clusports
CLU Facebook: https://www.facebook.com/clusports