Kingsmen Run at UCR Invitational
Kahovec leads CLU with a final time of 27:07.70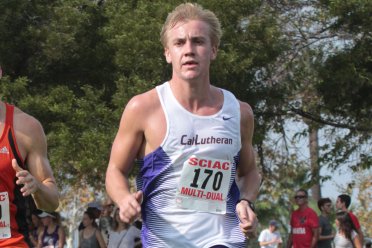 Riverside, Calif. –The Cal Lutheran men's cross country team competed in the UC Riverside Invitational on Saturday afternoon and finished with an average 8K time of 27:55.15.
For the second straight week the Kingsmen were led by junior Timmy Kahovec who finished with a time of 27:07.70.
Kahovec was followed by Christian Rider and Alex Johnson who clocked in at 27:22.30 and 28:12.20, respectively.
Also racing for the Kingsmen were Alex Johnson (28:12.2), Daniel Tustin (28:18.40), Teerth Patel (28:35.40), Romelo Casanave (28:52.10), Henry Friederichs (28:59.50), Rigo Baza Carillo (29:04.50), Michael Miller (29:11.50), Tyler Tvelia (31:14.70), and Oscar Alvarado (34.25.50).
The Violet and Gold will return to the course on Saturday, Oct. 1 at the Southern California Intercollegiate Athletic Conference (SCIAC) Multi-Duals, which will take place in La Mirada, Calif.
Results: UC Riverside Invitational
CLU Instagram: http://instagram.com/clusports#
CLU Twitter: https://twitter.com/clusports
CLU Facebook: https://www.facebook.com/clusports