Career Bests Fall at Biola Invitational
Kahovec paces CLU with a time of 26:05.83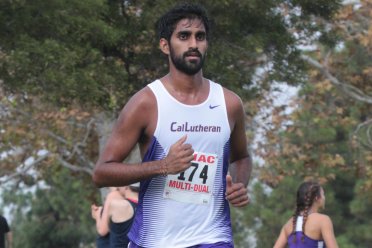 LA MIRADA, Calif. – The Cal Lutheran men's cross country team placed 10th overall in the season opening Biola Invitational after 11 Kingsmen combined for an average 8K time of 27:16.33 at Craig Regional Park on Saturday morning. Additionally, all seven returners for CLU set a personal best time on the course.
Junior Timmy Kahovec led CLU with a career-best time of 26:05.83, for an average mile time of 5:15.00, to place 44th overall in a field of 141.

The second Kingsmen finisher of the day was fellow junior Christian Rider who also set a career mark with a time of 27:06.93.
The senior duo of Daniel Tustin and Teerth Patel finished the course in 27:25.36 and 27:47.54, respectively, keeping the theme of personal best times in the 8K alive, while the trio of Alex Johnson (27:56.33), Michael Miller (28.32.85) and Zachary Sergey (28.44.32) also notched personal bests.

Making their debuts for the Violet and Gold included Rigoberto Baza Carillo (27:55.97), Henry Friederichs (28:09.99), Tyler Tvelia (29:51.18) and Connor Richter (41:21.46).
Cal Lutheran returns to the course next Saturday, Sept. 17 at the UC Riverside Invitational with an 8:05 a.m. scheduled start.

Results: Biola Invitational
CLU Twitter: https://twitter.com/clusports
CLU Facebook: https://www.facebook.com/clusports
CLU Instagram: http://instagram.com/clusports#