Kingsmen Suffer Similar Fate to Slugs
CLU opens SCIAC play on Saturday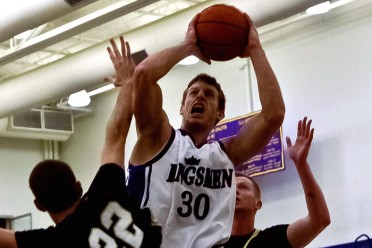 SANTA CRUZ, Calif. - Cal Lutheran men's basketball came up short in its effort to avenge an earlier loss to UC Santa Cruz. In a Tuesday night road game featuring 11 lead changes and eight ties the Banana Slugs pulled away late to defeat the Kingsmen 61-51.

Box Score: UCSC 61, CLU 51 - F

It was a back-and-forth slugfest throughout the first half with neither team leading by more than five points. Cal Lutheran gained its largest lead of the period at 18-13 following a Michael Palmer 3-pointer with 10:26 left.

Unfortunately it would be the only make from downtown for the Kingsmen as they shot 1-for-14 for the game. Despite the off night from downtown Cal Lutheran took a 34-33 lead at the 16 minute mark of the second half following two of Aaron Van Klaveren's game-high 14 points.

Van Klaveren connected on 7-of-12 shots from the floor and grabbed nine rebounds. He moved into third place on the program's all-time rebounding list.

UCSC's Nathan Mohri scored on his team's ensuing possession and the Banana Slugs never trailed the rest of the way. However back-to-back baskets CLU's Steven Davis closed the deficit to two points with six minutes to go.

The home side connected on 4-of-10 from distance with the final coming from Samuel Allen. His 3-pointer with 2:45 remaining gave UC Santa Cruz its largest lead of the game up to that point before tacking on late free throws in the final minutes of regulation.

UC Santa Cruz's Jamien Jones led his team with 11 points, 10 rebounds and three steals.

Tuesday's game marked the second time this season Cal Lutheran lost to UC Santa Cruz by 10 points. The Kingsmen dropped a 60-50 decision to the Banana Slugs back on Dec. 18, inside Gilbert Arena.

Cal Lutheran (4-6) will begin conference play on Saturday, Jan. 7, when it hosts Pomona-Pitzer.