CLU to Host Special Olympics Delegations
University to house three countries in July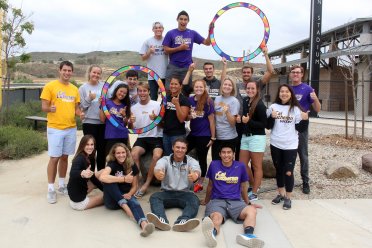 THOUSAND OAKS, Calif. – The largest sporting event in Los Angeles since the 1984 Olympics is coming to town and California Lutheran University and the city of Thousand Oaks are honored to be hosting Special Olympic World Games delegations from four countries between July 21-24, 2015 prior to the start of competition on July 25 as a Host Town.
The 2015 edition of the Special Olympic World Games, which occur every two years, will feature more than 6,500 competitors from 165 countries. Athletes and coaches from Mongolia, San Marino, St. Vincent and the Grenadines and Tajikistan will call the Cal Lutheran dorms home for three days. During that time, everyone will enjoy a bit of recreation, entertainment and cultural exchange around town as well as various training sessions on campus.
Thousand Oaks and CLU will welcome 100 people from the four countries with 63 athletes, who will be competing in a variety of sports including athletic, bocce, bowling, soccer, gymnastics, both artistic and rhythmic, judo, table tennis and tennis.
The Host Town program, introduced in 1995, has played an important role for the Special Olympics World Games by leaving lasting impressions on local communities that have had the opportunity to be involved. Host Towns will also provide an impactful legacy for the Special Olympics in Southern California and CLU and Thousand Oaks will team up to play a crucial role to further the cause of acceptance and inclusion of people with intellectual disabilities that will be felt for years to come. The events that the Special Olympians will experience will provide memories that will be cherished for a lifetime.
As part of NCAA Division III, Cal Lutheran has a unique connection to the Special Olympics as a partnership has been formed between the two parties over the years. A number of Cal Lutheran student-athletes and coaches will be involved in the festivities on campus later this month.
About Special Olympics World Games Los Angeles 2015 (LA2015)
With 6,500 athletes and 2,000 coaches representing 165 countries, along with 30,000 volunteers and an anticipated 500,000 spectators, the 2015 Special Olympics World Games – being staged in Los Angeles July 25-August 2, 2015 – will be the largest sports and humanitarian event anywhere in the world in 2015, and the single biggest event in Los Angeles since the 1984 Olympic Games. The 2015 Special Olympics World Games, with the unparalleled spirit, enthusiasm, teamwork, joy and displays of courage and skill that are hallmarks of all Special Olympics events, will feature 25 Olympic-style sports in venues throughout the Los Angeles region. The Opening Ceremony, to be held July 25, 2015 in the historic Los Angeles Memorial Coliseum, site of the 1932 and 1984 Olympic Games, is expected to attract 80,000 spectators. On April 30, 2014, LA2015 and ESPN announced a global programming deal that will see ESPN bring coverage of World Games to millions of fans around the world. Honorary Chairs of the Games are President Barack Obama and First Lady Michelle Obama, with Los Angeles Mayor Eric Garcetti and California Governor Jerry Brown serving as Honorary Hosts.
Current Founding Champions and sponsors include The Coca-Cola Company, Mattel, Deloitte, Toyota, Bank of America, Kaiser Permanente, OUE Skyspace Los Angeles, Los Angeles County Metropolitan Transportation Authority (Metro), Davis Elen Advertising, Microsoft, Toys"R"Us, The Walt Disney Company, Google, UPS, Herbalife Nutrition, Los Angeles Times, AMC Theaters, La Opinión, Los Angeles Tourism and Convention Board, WWE, Los Angeles News Group, AEG, Annenberg Foundation, David Geffen, Kate Capshaw and Steven Spielberg, Panda Express, LA84 Foundation, and Knights of Columbus. LA2015, the Games Organizing Committee, is a recognized 501(c)(3) non-profit organization. For more information on the 2015 Special Olympics World Games, including volunteer and sponsorship opportunities, visit www.LA2015.org and on social with #ReachUpLA on Facebook, Twitter and Instagram.
Information above was distributed by http://www.la2015.org/about-org/.
Special Olympics Facebook: https://www.facebook.com/SpecialOlympics?fref=ts
Special Olympics Twitter: https://twitter.com/SpecialOlympics
Special Olympics Instagram: https://instagram.com/specialolympics/?hl=en
Special Olympics LA2015 Instagram: https://instagram.com/la2015/?hl=en
CLU Twitter: https://twitter.com/clusports
CLU Facebook: https://www.facebook.com/clusports
CLU Instagram: http://instagram.com/clusports#
Hashtags: #ownthethrone, #clusports, #gokingsmen #goregals