Cal Lutheran to Participate in Fourth Annual Division III Week
CLU promotes knowledge of Division III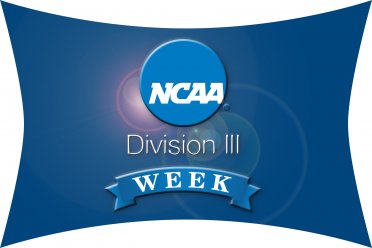 INDIANAPOLIS, Ind. – Cal Lutheran is one of 450 Division III institutions around the country. During the week of April 6-12, all members will host Division III Week, aimed at celebrating what those schools have to offer student-athletes in the classroom, in the field of play and in the community during the 41st year of the NCAA.
There are currently 187,001 DIII student-athletes while 478,869 compete at the Division I and II levels combined from coast to coast. Division III, however, represents the largest tier in the NCAA at 40 percent of the total membership. Additionally, on average, student-athletes comprise 21 percent of the student body at Division III institutions with percentages ranging from one to more than 50 percent.
In 2014-15 CLU had 465 roster spots more than 425 individuals donning the Violet and Gold as numerous Kingsmen and Regals are two-sport competitors with one three-sport athlete.
The NCAA sponsors 28 Division III Championship events with 14 for men and 14 for women. There are also eight National Collegiate Championships. Overall, CLU sponsors 20 intercollegiate athletic programs, which is above the average (18) of like institutions.
Cal Lutheran is one of the 81 percent (356) of active institutions that is private with 19 percent (82) of DIII schools on public campuses. Across the board the average enrollment of Division III schools is 2,717.
All of the schools that fall in the Division III category are expected to promote the model of discover, develop and dedicate. CLU is right on track with that mantra by succeeding academically and athletically while giving back to the community.
"We are proud to once again be promoting our student-athletes, programs, coaches and support staff throughout Division III Week," Director of Athletics Dan Kuntz said. "This campaign is aimed at promoting Division III and the successes of our student-athletes academically, athletically and in other aspects of their student experiences and we are glad to have this opportunity."
In 2014 there were 160 student-athletes inducted into the CLU Scholar Athlete Society by holding a 3.40 or higher cumulative grade point average. The number was higher than any other induction class and the 2015 class is expected to be in the same range. Additionally, numerous student-athletes throughout the season have earned both Academic All-SCIAC and other sport specific academic accolades.
CLU teams have been just as successful on the field, court, course and in the pool with numerous programs garnering national rankings in 2014-15. CLU teams have claimed two Southern California Intercollegiate Athletic Conference (SCIAC) titles thus far with four squads earning spots in the SCIAC Postseason Tournament for their respective sport and one team advancing to NCAA Division III Championship competition. CLU has also been represented individually in NCAA Regional competition in the winter and has high hopes of sending more student-athletes to Nationals in the spring. The current sports have a chance to increase those numbers with multiple programs in the hunt for league titles and berths in SCIAC Postseason Tournaments as well.
Beyond those two areas, CLU students have also taken time to give back and will extend that opportunity into Division III Week. The Student Athlete Advisory Committee (SAAC) that is headed in 2014-15 by SAAC president Jordan Card and vice president Jack McFarland, along with the entire group, have put together a pair of community service projects in conjunction with DIII Week. Each day between Tuesday and Friday, student-athletes will be at the flagpole between 10:00 a.m. and 2:00 p.m. to conduct a Bone Marrow registry (all it takes is a mouth swab and a little paper work) as well as a Create-A-Card station. All of the cards signed will be sent to pediatric cancer patients in the area.
Throughout the week there will be giveaways at different events, including the aforementioned SAAC stations, and CLU students are highly encouraged to attend with ID.
Finally, the Ullman Commons will be offering sports themed meals and snacks throughout the week in continuation of the tradition implemented in 2013. Food will include hot dogs, pretzels with mustard, nachos, corn dogs and chili tacos.
During the course of the week other student-athlete related materials will be distributed via Social Media (links below) and on www.clusports.com.
CLU Twitter: https://twitter.com/clusports
CLU Facebook: https://www.facebook.com/clusports
CLU Instagram: http://instagram.com/clusports#
Hashtags: #ownthethrone, #clusports, #gokingsmen #goregals, #purplepit #whyD3 #NCAAD3