Judd Named AVCA Assistant Coach of Year; Pair Earns All-America
Coaching honor goes to CLU assistant, Lawrence named to Second Team All-America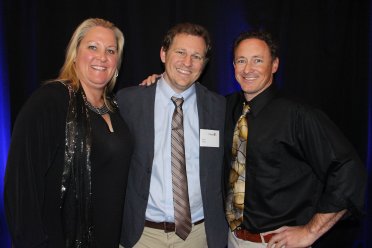 GRAND RAPIDS, Mich. – Tonight at the 2015 NCAA Division III Women's Volleyball banquet, which officially kicks off the NCAA Championships at Calvin College, Cal Lutheran assistant women's coach and current men's volleyball coach Kevin Judd was honored as the Assistant Coach of the Year as announced by the American Volleyball Coaches Association (AVCA) while junior Michelle Lawrence was selected to the Second Team All-America and Sarah Pappas was an Honorable Mention.
Judd has been part of the Regals' coaching staff since 2006 and in his 10 years had helped guide Cal Lutheran to nine NCAA postseason appearances with six consecutive Southern California Intercollegiate Athletic Conference (SCIAC) titles and four SCIAC Postseason Tournament crowns.
"CLU volleyball would not be where it is today without Kevin," head coach Kellee Roesel shared. "There is no one more deserving of this honor and he is absolutely invaluable to the success of this program."
Although he primarily works with the setters and outside hitters, he has been instrumental in coaching every single woman that has come through the program as the team building coordinator who also creates drills, scouts opponents and tracks offense during matches.
In his CLU career, Judd has helped to coach 14 All-Americans to 24 selections including Lawrence, now a two-time honoree with a Second Team nod in 2015 after earning Honorable Mention a year ago, and Pappas who also becomes a two-time All-American HM as a junior.
Lawrence locked up honors after being selected as the SCIAC Player of the Year in 2015 and to the All-West Region Team while Pappas earned First Team All-SCIAC and All-West Region accolades this fall.
The award for Head Coach of the Year went to Ryan Meek, the fifth-year leader at Hendrix College (Ark.). A Simi Valley, Calif. native, Judd coached Meek at Moorpark College in the early 2000's, which made for an even more memorable selection as both men met on stage to accept their respective awards.
Cal Lutheran (28-5) and Bowdoin (Me.) meet on the court at the Van Noord Arena tomorrow, Thursday, Nov. 19, at 2:30 p.m. (PST) for the quarterfinals of the NCAA Tournament.
Release: AVCA 2015 Coaching Awards
Release: AVCA 2015 All-America
CLU Instagram: http://instagram.com/clusports#
CLU Twitter: https://twitter.com/clusports
CLU Facebook: https://www.facebook.com/clusports
CLU WVB Instagram: https://instagram.com/regals_volleyball/
CLU WVB Twitter: https://twitter.com/CLUwVolleyball
Follow Coach Roesel on Twitter: @CoachRoesel