CLU Hosts 12th Scholar-Athlete Society Induction Ceremony at Gilbert Arena
Kingsmen, Regals recognized for academic successes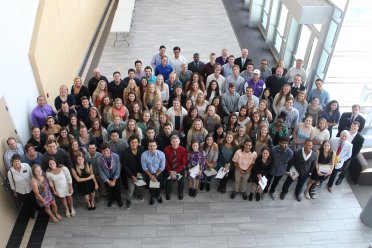 THOUSAND OAKS, Calif. – Throughout the school year, much of the day-to-day focus is directed towards the successes of the Cal Lutheran athletics programs, but on Saturday morning, a group of 152 student-athletes, with their families and friends, gathered inside of the Gilbert Arena for the 12th CLU Scholar-Athlete Society Induction ceremony where academics were praised.
In 2003, Elaine Benditson inspired the concept and the Cal Lutheran Scholar-Athlete Society was created to acknowledge the academic achievements of CLU athletes. The institution believes it is important to give special emphasis to those students who are competing rigorously to achieve excellence in the classroom and in their chosen sport. The Kingsmen and Regals honored during the ceremony have each proven to bring equal dedication and discipline to both the classroom and chosen fields of play.
Boasting a 3.40 or higher cumulative grade point average during the academic year, the 2014 induction class was the largest in the 12-year history of the society. The inaugural class had 36 inductees.
Of the student-athletes who participated in 2014-15, 64% (327 of 509) earned a cumulative grade point average (GPA) of 3.0 or higher. Nearly 30% (150) produced a 3.5 or higher GPA and 13 student-athletes earned a perfect 4.0 GPA in the fall semester. The total GPA for all CLU sports teams this year in the fall was 3.177. Offering 20 intercollegiate sports, 10 of those teams produced higher team GPAs in 2014-15 than in 2013-14. Overall, 17 teams (85%), one more than a year ago, produced a 3.0 or higher team semester GPA.
Director of Athletics Dan Kuntz served as the master of ceremonies at the event and reiterated that unity between everyone in attendance.
"The common theme among all of our inductees is that they compete with equal dedication and discipline in the classroom and their chosen sport."
The statement rang true as two distinguished seniors spoke of their collegiate experiences.
Following the presentation of certificates and gifts to those inducted, the pair of diver and biology major Ryan Brem and volleyball player and exercise science major Kennedy Peters each said a few words after being selected by the CLU Faculty Athletic Policies Committee as the Male and Female SCIAC Scholar Athlete, respectively.
Peters took the microphone and thanked the committee, her coaches, professors, teammates and parents. She took a few minutes to reflect, citing the words passion, dedication and commitment.
"I believe all of these are attributes that all of the athletes in this room possess," adding, "They are what set us apart from being student-athletes to being scholar-athletes." She closed, "I think that being a scholar-athlete is made possible because of the constant support and encouragement of the CLU community."
During her four-year career in the volleyball program, she was part of four SCIAC championships, SCIAC Postseason Tournament titles, NCAA Division III Volleyball appearances, including part of the 2013 National Runner-up team, and a First Team All-SCIAC selection as a senior. Peters broke into the career Top-10 list for assists with 767 after splitting her playing time between a libero and setter throughout her playing days.
To wrap up the day, Brem stepped up to the podium where he also opened with a series of thank you's before taking a look back at his diving career and reminisced about what got him to where he is today.
"We are at Cal Lutheran, a Division III school and we are competing in our sport not because it helps us with our tuition, but because we love our sport and we are too stubborn to give up our passion despite everything else we have going on." He went on, "We have schoolwork, social lives, some of us have jobs, but we are so stubborn we don't give anything up and manage to do all on top of a collegiate sport." Brem finished by saying, "And at the end of the year we wind up here, because we are stubborn and won't move despite everything that is thrown are way. So the next time someone says you're stubborn, say 'Thank you, look at all I have accomplished'."
Brem will graduate as a four-time All-SCIAC recipient who now holds all four diving records at Cal Lutheran. His one-meter six- and 11-dive marks of 274.25 and 482.40, respectively, were achieved this year as well as his three-meter, 11-dive score of 527.35 while his three-meter, six-dive showing of 246.98 achieved in 2014 has held.
Cal Lutheran attracts students from all walks of life and areas of the world. Its diversity is unique and the passion that each and every student possesses is special. For many, one of those passions is sport, in turn producing amazing student-athletes for the Kingsmen and Regals year in and year out.
Release: 2015 Induction Class
CLU Twitter: https://twitter.com/clusports
CLU Facebook: https://www.facebook.com/clusports
CLU Instagram: http://instagram.com/clusports#
Hashtags: #ownthethrone, #clusports, #gokingsmen #goregals