CLU Hosts 13th Scholar-Athlete Society Induction
Kingsmen, Regals recognized for academic successes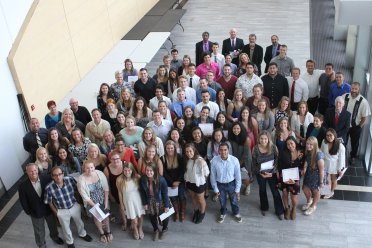 THOUSAND OAKS, Calif. – Throughout the school year, much of the day-to-day focus is directed towards the successes of the Cal Lutheran athletics programs, but on Saturday, May 7, a group of 150 student-athletes, with their families and friends, gathered inside of the Gilbert Arena for the 13th CLU Scholar-Athlete Society Induction ceremony where academics were praised.
In 2003, Elaine Benditson inspired the concept and the Cal Lutheran Scholar-Athlete Society was created to acknowledge the academic achievements of CLU athletes. The institution believes it is important to give special emphasis to those students who are competing rigorously to achieve excellence in the classroom and in their chosen sport. The Kingsmen and Regals honored during the ceremony have each proven to bring equal dedication and discipline to both the classroom and chosen fields of play.
Boasting a 3.40 or higher cumulative grade point average during the academic year, the 2015 induction class was one of the largest in the 13-year history of the society. The inaugural class had 36 inductees.
Of the student-athletes who participated in 2015-16, 59% (294 of 497) earned a cumulative grade point average (GPA) of 3.0 or higher. Nearly 30% (143) produced a 3.5 or higher GPA and 11 student-athletes earned a perfect 4.0 GPA in the fall semester. The total GPA for all CLU sports teams this year in the fall was 3.158. Offering 21 intercollegiate sports, eight of those teams produced higher team GPAs in 2015-16 than in 2014-15. Overall, 17 teams (81%), produced a 3.0 or higher team semester GPA.
After an introduction by Director of Athletics Dan Kuntz, President Chris Kimball had the honor of presenting the 2015 Regals volleyball team with their National Championship rings after becoming the first team in Cal Lutheran history to capture an NCAA title.

Following the ring ceremony and presentation of certificates and gifts to those inducted, the pair of track and field athlete and exercise science major Michael Bassette and volleyball player and psychology major Allie Eason each said a few words after being selected by the CLU Faculty Athletic Policies Committee as the Male and Female SCIAC Scholar Athlete, respectively.
Eason had a phenomenal four-year career in the volleyball program and led the Regals to an NCAA title as a senior while being named the 2015 NCAA Division III Tournament Most Outstanding Player. The Oxnard, Calif. native was a two-time AVCA All-American selection, a three time All-West Region selection and a four-time All-SCIAC honoree. In addition to many more accolades, Eason ranks second all-time in CLU history with 1,320 kills and 1,334 digs, and ranks fourth with 154 aces.
"I've been blessed to be a part of a volleyball program that first and foremost aims to build you into the best version of yourself that you can be. While we obviously value our teammates' and coaches' talent, hard work and commitment, I think the thing we value most is our ability to build each other up. Out of all the lessons I've learned in the classroom and on the court throughout my time here, I think the most important one I'll take with me is that you can accomplish so much more when you focus on those around you and on their happiness and well-being than you can when you focus primarily on your own."

With Bassette busy competing at a track meet, the senior put together a few words that Kuntz read on his behalf.

"It took making some mistakes over the years, forgetting a few appointments, and having to reprioritize elements of my life to figure out the best way to adjust and orient myself in this world, the best way to handle all the demands accompanying each part of my CLU student-athlete experience. Finding that way is a continuous progression of self-improvement, thus I'm still finding out what that way is. Large amounts of time may pass before perspective realizes it's time to step up and fight to win the battle of mental clarity, vigilance, and ultimately fulfillment. By now, it's a fight that continues to get easier and easier as I hold myself more accountable, and each year I spend on this planet is more fulfilling than the last."
Bassette will graduate as a four-time All-SCIAC recipient and a three-time SCIAC champion in the Shot Put. He currently ranks second all-time in the event in CLU history with a 17.18m distance and he will advance to the NCAA Division III National Championships for the second straight year in 2016.
Cal Lutheran attracts students from all walks of life and areas of the world. Its diversity is unique and the passion that each and every student possesses is special. For many, one of those passions is sport, in turn producing amazing student-athletes for the Kingsmen and Regals year in and year out.
Release: 2016 Induction Class
CLU Twitter: https://twitter.com/clusports
CLU Facebook: https://www.facebook.com/clusports
CLU Instagram: http://instagram.com/clusports#
Hashtags: #ownthethrone, #clusports, #gokingsmen #goregals