CLU Football Hosts Sagehens for Homecoming Game
Story Courtesy of Rhiannon Potkey (VC Star)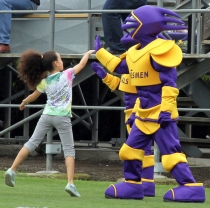 The athletics portion of the CLU Homecoming Weekend will get underway on Saturday, Oct. 23 at 1 p.m. as Cal Lutheran (4-1, 3-0 SCIAC) hosts pomona-Pitzer (0-5, 0-2 SCIAC) at Mt. Clef Stadium. The game can be viewed live on the web on the CLUTube Website, click here for more information.

In terms of a homecoming opponent, the Pomona-Pitzer football team adheres to the script. The Sagehens are 0-5 entering today's Southern California Intercollegiate Athletic Conference game against Cal Lutheran.

It's the second straight winless opponent CLU will host after beating La Verne last weekend.

But CLU coach Ben McEnroe believes Pomona-Pitzer's record is a bit deceiving.

"This is the best 0-5 team I have ever coached against," McEnroe said. "Offensively, they are pretty scary. They have a quarterback who I wouldn't be surprised if he gets into an NFL camp somewhere."

The quarterback McEnroe is referring to is Jacob Caron.

The 6-foot-4, 235-pound senior is the son of Pomona-Pitzer coach Roger Caron, who was a Division I-AA first-team All-America offensive tackle at Harvard and a fifth-round draft by the Indianapolis Colts in 1985.

Jacob Caron has completed 121 of 228 passes for 1,205 yards and eight touchdowns this season while also throwing eight interceptions.

"I wouldn't compare him to this, but he does some things stylistically at times that look like a young Brett Favre," McEnroe said. "He drops his arm down to get rid of the ball and throws on the run and off his back foot. He has the arm strength to make nearly every throw on the field."

CLU's defense has experience facing quality quarterbacks this season. The Kingsmen have managed to force nine interceptions and record 16 sacks - both conference-leading numbers.

"The key for us has been making them uncomfortable and for them to throw on the run and hurry their decisions," McEnroe said. "Obviously, that would be our plan of attack again this week."

The Sagehens aren't likely to remain winless the entire season, but the Kingsmen don't want their first victory to come at their expense and spoil their homecoming weekend.

"I feel like if we play to the best of our ability, we will win the football game," McEnroe said. "But they do some things that if we don't play at a high level, they are going to give themselves an opportunity to win."