Bauer Voted as One of San Diego Chargers All-Time Greatest
Former CLU football player earns franchise recognition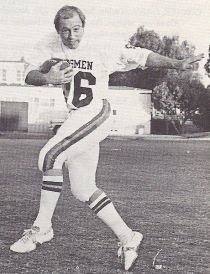 SAN DIEGO, Calif. - The National Football League's San Diego Chargers celebrated its 50th anniversary season by selecting 53 players and coaches to the All-Time Greatest Chargers team. Among the honorees is former Cal Lutheran standout Hank Bauer earning one of two Special Teams spots.

Official Release: All-Time Greatest Chargers

Bauer played for the Chargers from 1977-1982 and was named Special Teams Player of Year two years in row (1980-81). He was chosen as the NFL Special Teams Player of Year by Cable News Network of Atlanta, Georgia in 1980. Led team in special teams solo tackles and plays.

Bauer played in 86 games during his six seasons scoring 20 touchdowns during that time. His most productive offensive season out of the Chargers backfield came in 1978 recording 85 carries for 304 yards and eight touchdowns. He also grabbed 10 receptions for 78 yards and a score that same year.

While attending then Cal Lutheran College, Bauer played for the Kingsmen football team from 1972-75. He holds the third highest career rushing total (2,659) and all-purpose yards (2,998) in school history. Bauer also ranks second all-time in total scoring (231) and is the only CLU running back to rush for four touchdowns twice in a game.