Watch CLU Football Live on KADY-TV
Kingsmen make home debut on Saturday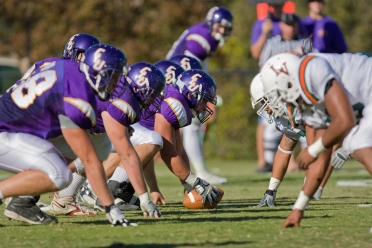 THOUSAND OAKS, Calif. - Cal Lutheran and Pacific Lutheran (WA) will do battle at Mount Clef Stadium at 1 p.m. on Saturday afternoon. To watch the game streamed live on the Web courtesy of KADY-TV.com, click here.

Saturday's contest is the first of four Cal Lutheran home games on the 2009 schedule as the Kingsmen host Whittier (Oct. 3), Claremont-Mudd-Scripps (Oct. 17) and in the regular season finale against Redlands (Nov. 14).

All CLU home football contests will be broadcast by KADY-TV.com.

Saturday Game Preview
Cal Lutheran (0-1) v. Pacific Lutheran (0-1)

THOUSAND OAKS, Calif. - On Saturday afternoon at Mount Clef Stadium one of the Cal Lutheran and Pacific Lutheran football teams will earn their first win of the young season. History is on the side of the Kingsmen winning three of the last four meetings over the Lutes in the team's 2009 home debut.

Last week the Kingsmen dropped a 20-13 decision to Willamette (OR) University in its season opener. The formerly No. 8 ranked Bearcats dropped its opener a week earlier to Concordia-Moorhead (MN) and fell out of the nation's top-25 rankings.

Out of that contest emerged CLU starting running back Brian Stuart who rushed for 140 yards on 20 carries. He became only the second Kingsmen to run for over 125 yards in a single since 2005 (Antoine Adams-2008).

Senior quarterback Jericho Toilolo found a new possible 1-2 receiving duo as Christian Edwards and Matt O'Brien combined for nine catches, 140 yards and a touchdown.

Despite putting up decent numbers on the ground, the Kingsmen offense struggled in the red zone scoring only three points on three possessions inside the opponent's 20-yard line.

CLU all-American kicker Jackson Damron supplied seven points in the game including field goals of 34 and 45 yards.

After last year's stellar efforts against opposing passers the Kingsmen allowed only six completions last week. However Scott Schoettgen caught five balls, three of them for 30 yards or more including an 86-yard touchdown to open the game.

Both teams ran the ball well but the Bearcats managed 199 yards on the ground including Deon Horne's 143 and a score to lead all players.

PLU is looking forward to getting its offense back on track after dropping its season home opener 46-7 against St. Olaf.

Pacific Lutheran's offense seems to find a "home away from home" preferring to play at Mount Clef Stadium in recent history. Since the CLU-PLU series restarted in 2004 the Lutes have averaged just under 12 points in its three games in Washington state. In Thousand Oaks the offense has scored 83 points in two contests averaging 41.5 points per game.

PLU starting quarterback A.J. Palazzolo transferred from Cal Lutheran this past offseason after not appearing in a game in 2008. The new Lute completed 12-of-26 passes for 145 yards tossing a touchdown and interception.

An injury will put him in a familiar on the other side of the field as Jordan Rasmussen earns the starting nod against the Kingsmen. Rasmussen went 2-for-4 including a 41-yard pass against St. Olaf last week.

Receiver Greg Ford caught seven of the 14 completed passes for 146 yards and the lone Lutes touchdown of the day. He provided a majority of the team's offense as PLU individual rushers totaled -13 yards.

The Lutes defense gave up six touchdown drives including two to begin the game and three in a row spanning the end of the first half to late in the third quarter. In contrast and aside from the 63-yard TD strike, PLU managed only two drives of 10 yards or more and failed to sustain a drive lasting more than five plays.

However the Lutes defense has held strong against Toilolo as the Kingsmen starting quarterback has gone 18-for-35, thrown two interceptions and been sacked 10 times in two career starts against PLU.

Toilolo will hope to not only change his recent history against the Lutes but the team's back-to-back losses in home debuts.

Other festivities at Saturday's game will take place at halftime as the Class of 2009 Cal Lutheran Athletics Hall of Fame Inductees will be honored. Proceedings of the induction ceremony will take place in the Gilbert Sports and Fitness Center starting at 5 p.m.

For more information visit the official Alumni Association Hall of Fame Website.