Kingsmen Announce 2017 Football Schedule
CLU set to host four games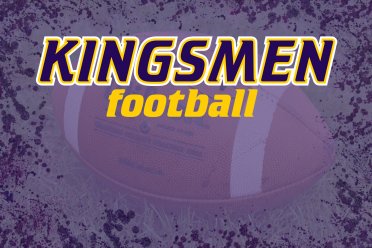 THOUSAND OAKS, Calif. – The Cal Lutheran football program will host four games inside of William Rolland Stadium in 2017 with five additional road games to round out the nine-game regular season schedule.
The 2017 campaign opens at 7:00 p.m. on Saturday, Sept. 9, against sister school Pacific Lutheran (Wash.), as it typically does, with the Kingsmen and Lutes meeting in Thousand Oaks. The teams have battled 22 times entering the season opener and PLU holds a slight edge, 12-10, in the win column.
Cal Lutheran will hit the road for the next three games. A week later on Sept. 16, the Violet and Gold travel to the Pacific Northwest to face Willamette (Ore.) with a 1:00 p.m. kickoff to close out non-conference play. After a bye week on Sept. 23, the Kingsmen begin Southern California Intercollegiate Athletic Conference (SCIAC) competition at La Verne on Sept. 30 with a 7:00 p.m. start scheduled. On Oct. 7, CLU travels to Pomona-Pitzer for another 7:00 p.m. opening drive.
Homecoming for Cal Lutheran is slated for Oct. 14 with multiple events occurring on campus, including a 1:00 p.m. kickoff inside of Rolland Stadium. After the Kingsmen face the Claremont-Mudd-Scripps Stags, women's volleyball will serve up against Pomona-Pitzer at 6:00 p.m. inside of the Gilbert Arena before the women's soccer team faces off with the CMS Athenas at 7:00 p.m. under the lights in Rolland Stadium.
The following week, on Saturday, Oct. 21, CLU welcomes Whittier for a 7:00 p.m. start to cap off back-to-back home contests.
Saturday, Oct. 28 and Saturday, Nov. 4, the Violet and Gold head to Chapman and Occidental, respectively, for 7:00 p.m. SCIAC kickoffs.
The final regular season game of the year pits the Kingsmen against the defending SCIAC champion Redlands Bulldogs at 1:00 p.m. on Nov. 11. The game also serves as Military Appreciation day and Senior day with the graduating class being recognized prior to the start of the contest. The teams will play for the Smudge Pot for the sixth year.
As always, the 2017 SCIAC champion will earn the conference's automatic berth into the NCAA Division III Football Championships, which will get underway November 18 and conclude with the Stagg Bowl in Salem, Va., for the final time, on December 16.
Schedule: 2017 Football
CLU Instagram: http://instagram.com/clusports#
Football Instagram: http://instagram.com/kingsmen_football/
CLU Twitter: https://twitter.com/clusports
Football Twitter: https://twitter.com/CLUFootball
CLU Facebook: https://www.facebook.com/clusports
Hashtags: #clusports #ownthethrone #gokingsmen #theSCIAC #d3fb #ncaad3