Rothschild Rewarded as All-West Region
First Kingsmen honoree since 2012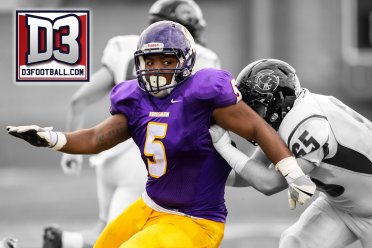 MINNEAPOLIS, Minn. – Announced on Monday by D3football.com, senior defensive lineman DeJon Rothschild was named to the 2016 All-West Region Third Team Defense for his performance this season.
After earning First Team All-Southern California Intercollegiate Athletic Conference (SCIAC) honors for a second consecutive year, Rothschild adds to his accolades after an outstanding senior campaign. The Banning, Calif. native totaled 52 tackles in nine games to go along with 4.5 sacks for a loss of 14 yards and seven tackles for a loss of 20 yards. Additionally, he recorded a forced fumble against Pomona-Pitzer and recovered a fumble the next week against Claremont-Mudd-Scripps. Rothschild also set a career-high with nine tackles against Occidental and matched it in the season finale against Redlands.
Rothschild is the first Kingsmen to earn D3football.com All-West Region honors since the trio of Eric Rogers, Vince Minor and Andrew Pankow were awarded in 2012.
Also representing the SCIAC with All-West Region honors are punter Elias Deeb from Chapman, running back Dallas Parent from La Verne, center Colton Coss from Pomona-Pitzer, linebacker Mitch Shepard from Redlands and cornerback Victor Bunce from Claremont-Mudd-Scripps.
Cal Lutheran finished the season with an overall record of 4-5 for the fourth straight year and went 4-3 in conference play to tie for fourth in the SCIAC.

Release: 2016 D3football.com All-West Region Team
CLU Twitter: https://twitter.com/clusports
CLU Facebook: https://www.facebook.com/clusports
CLU Instagram: http://instagram.com/clusports#