Six Kingsmen Selected to All-SCIAC Team
Four land on first team, two on second team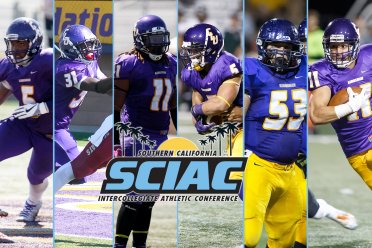 PASADENA, Calif. – Announced last Wednesday by the Southern California Intercollegiate Athletic Conference (SCIAC) office, the Cal Lutheran football team landed six student-athletes on the 2016 All-SCIAC Team.
The quartet of Obasi Dees, Matthew Kubly, Aaron Lacombe and DeJon Rothschild were selected to the First Team while Chris Beeson and Acquarey Eddington were named to the Second Team.
Lacombe made an immediate impact on the Kingsmen offense and led the SCIAC with 646 receiving yards in seven conference games. The junior transfer from Moorpark College also pulled in a conference-best eight touchdowns and averaged 92.3 yards per game against SCIAC opponents. Lacombe was a consistent deep threat and his average of 25.8 yards per reception is eight yards more than the next receiver. In five of the seven conference games, Lacombe had catches for at least 57 yards and had a season-long of 64 yards against Pomona-Pitzer. He racked up career-best 164 yards and a touchdown in the final game of the year against Redlands.
Rothschild earned First Team All-SCIAC honors for the second consecutive season after finishing with 42 total tackles, 15 of them by the solo variety, in seven conference games. The Banning, Calif. native was towards the top of the leaderboard with 3.5 sacks for a loss of eight yards and 5.5 total tackles for a loss of 10 yards. He also recorded a forced fumble against Pomona-Pitzer and recovered a fumble the next week against Claremont-Mudd-Scripps. Rothschild set season-bests with nine tackles in back-to-back games against Occidental and Redlands to close the season.
Kubly is a first-time All-SCIAC honoree after leading the Kingsmen offensive line at center and helping the CLU offense average 436.6 yards per game. The Violet and Gold totaled 1,299 rushing yards and 1,757 passing yards to rank third in the conference in each category. Overall, the Kingsmen averaged 33.6 points per game against the SCIAC and had a season-high of 560 yards in a 53-36 win over Occidental.
Dees earned First Team honors after a standout season as a freshman cornerback. The De La Salle High School product finished the year with 15 tackles in seven conference games, including a career-high of eight against Occidental. Dees also tallied three pass break-ups and was a forced to be reckoned with in the secondary.
In his first season with the Kingsmen, Beeson earned Second Team honors after ranking third in the conference with 622 rushing yards for an average of 88.9 yards per game. The junior transfer from Ventura College was also third in the SCIAC with seven rushing touchdowns and averaged a fourth-best mark of 5.9 yards per carry. In a 53-36 win over Occidental, Beeson accumulated 161 yards and two touchdowns on 16 carries with a season-long run of 62 yards. He also surpassed 100 yards rushing against Pomona-Pitzer with 116 yards on 18 carries.
Eddington, a junior transfer from Riverside City College, was a terror for opposing defenses all season long and led the SCIAC with six sacks and 13 tackles for loss. Overall, Eddington racked up 60 tackles in seven conference games for an average of 8.6 tackles per game to rank fourth in the league. He recorded a sack in all but one SCIAC contest and had a season-best mark of 14 tackles against Chapman.
Occidental quarterback Bryan Scott was named Offensive Athlete of the Year after passing for over 3,000 yards while Redlands linebacker Mitch Shepherd was named Defensive Athlete of the Year. Freshman quarterback Karter Odermann from Pomona-Pitzer was named Newcomer of the Year and Jake Glasser from Claremont-Mudd-Scripps earned the John Zinda Award. Coaching Staff of the Year was awarded to the Pomona-Pitzer staff and head coach Roger Caron.
Cal Lutheran finished the season with an overall record of 4-5 for the fourth straight year and went 4-3 in conference play to tie for fourth in the SCIAC.
Release: 2016 All-SCIAC Football Team
CLU Instagram: http://instagram.com/clusports#
CLU Twitter: https://twitter.com/clusports
CLU Facebook: https://www.facebook.com/clusports