Kingsmen Drop Season Finale to Redlands
CLU concludes season 4-5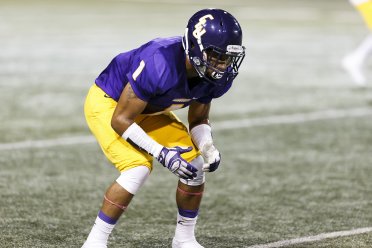 REDLANDS, Calif. – In the final game of the Southern California Intercollegiate Athletic Conference (SCIAC) season, the Cal Lutheran football team looked to play spoiler to the undefeated record of the conference champion Redlands Bulldogs. After taking a 30-19 lead late in the second half, the Kingsmen gave up 15 unanswered points in the fourth quarter and fell 34-30.
Adam Friederichsen connected on a 62-yard touchdown pass play to Aaron Lacombe to give the Kingsmen an 8-3 lead midway through the first quarter. The Bulldogs scored a touchdown in the second quarter to take a 9-8 lead going into the break.
CLU came out of the half in a big way with 22 points in the third quarter. Friederichsen threw a touchdown pass to Wendell O'Brien and Justyn Gutierrez later came in and threw a touchdown pass to Josh Mooney. To close out the scoring, Chris Beeson pounded in a three-yard touchdown run.
With a 30-19 lead heading into the fourth quarter, Redlands forced a safety to creep closer at 30-21. With 7:22 remaining, the Bulldogs added a touchdown to cut the lead to two at 30-28.
With 2:55 remaining, pinned inside their own five-yard line, Redlands scored on a 98-yard touchdown heave to take the lead. The Kingsmen had a chance down the stretch but a costly turnover handed the victory to the Bulldogs.
Friederichsen passed for 162 yards and two scores while Gutierrez added 133 yards and one touchdown. Beeson rushed for 71 yards on 16 attempts and a touchdown and Lacombe had a big day with six catches for 164 yards and a touchdown.
Redlands quarterback Mitch Kidd threw for 413 yards and four touchdowns and receiver Christian Guzman piled up 220 yards and two scores.
Defensively, Nick Gordon led the Kingsmen with 13 tackles, Ty Lozano finished with ten tackles and Dejon Rothschild added nine. Lozano and Logan Sanders each recorded an interception.
Cal Lutheran wraps up the season with a 4-5 overall record for the fourth consecutive year and goes 4-3 in SCIAC play to tie for fourth in the standings.
Box Score: UR 34, CLU 30
CLU Instagram: http://instagram.com/clusports#
CLU Twitter: https://twitter.com/clusports
CLU Facebook: https://www.facebook.com/clusports