Kingsmen Sail Past Tigers on Senior Night
CLU racks up 560 total yards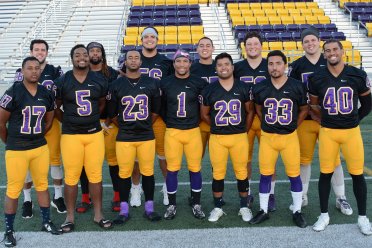 THOUSAND OAKS, Calif. – The Cal Lutheran football team made sure to send its seniors out on a high note, putting on an impressive offensive performance with a season-best output of 560 total yards in a 53-36 defeat over Occidental in the final home game of the season on Saturday night at Rolland Stadium.
Prior to kickoff, CLU recognized seniors Ivan Campos, Jesse Cerdas, Casey Cole, Matthew Kubly, Jordan Pierce, DeJon Rothschild, Logan Sanders, Isaac Seymour, Jared Smith, Nathaniel Thompson, Kaile Williams and Javier Zaragosa for their contributions to the Kingsmen football program over the past four years.
In what has been a trend all season long, the Kingsmen scored on their first drive of the game as Chris Beeson took the ball 62 yards to the house on just the third play from scrimmage. After a two-point conversion, CLU took an 8-0 lead in the blink of an eye.
Facing an Occidental team that allowed an average of 48 points per game coming into the night, the Kingsmen jumped on the Tigers early and often.
On the first play of its third drive, CLU used a bit of trickery with a reverse flea-flicker that left Wendell O'Brien wide open down field for an easy 50-yard touchdown pass from Adam Friederichsen. After another successful two-point conversion, the Kingsmen were up 16-0 with 9:28 still remaining in the first quarter.
Occidental managed to get on the board with a nine-play, 75-yard drive that resulted in a 24-yard touchdown run to cut the CLU lead to 10.
Looking to one-up themselves after their last drive, the Kingsmen completed a 60-yard pass play on the first play from scrimmage as Friederichsen found Aaron Lacombe downfield for another touchdown.
Later in the quarter, Friederichsen took the ball into the end zone himself for a one-yard rushing touchdown followed by a fourth consecutive two-point conversion to take a 32-6 lead.
The Tigers would answer with an 84-yard touchdown pass from Bryan Scott to Isaiah Amaechi right before the quarter to make it 32-12, Kingsmen.
In the second quarter CLU came down to earth with just one touchdown, a 16-yard pass from Friederichsen to Diego Hernandez to complete a 10-play, 66-yard drive and held a 40-19 lead at halftime.
In the third quarter, Occidental did its best to climb back in the game, scoring 17 points and cutting the CLU lead to 10, at 46-36, but a 12-yard touchdown pass from Friederichsen to Josh Mooney in the fourth quarter and a timely interception by Sanders sealed the victory for the Kingsmen.
Friederichsen set a career-high with 317 passing yards on 18-of-30 attempts with four touchdowns. Beeson led the Kingsmen rushing attack with 161 yards and two touchdowns on 16 carries while Campbell added 88 yards on six attempts. O'Brienhauled in five receptions for 157 yards and a score to lead the receiving corps.
Defensively for CLU, Acquarey Eddington led the charge with a game-high 10 tackles including a sack and two tackles for a loss of eight yards. Rothschild finished with nine tackles while Tyler Lozano and Obasi Dees added seven apiece. Lozano, Sanders and Jerome Hull each came away with interceptions in the game.
Scott went 31-for-52 on pass attempts for 400 yards with four touchdowns and three interceptions. Chris Rom-Toribio rushed for 127 yards and Cordell Harris had 122 receiving yards to lead the Tigers.
Cal Lutheran (4-4, 4-2 SCIAC) will conclude the regular season next Saturday, Nov. 12 with a 1:00 p.m. road matchup against Redlands.
Box Score: CLU 53, OXY 36
CLU Instagram: http://instagram.com/clusports#
CLU Twitter: https://twitter.com/clusports
CLU Facebook: https://www.facebook.com/clusports