Panthers Propel Past Kingsmen on Homecoming
CLU surrenders 20 second half points to Chapman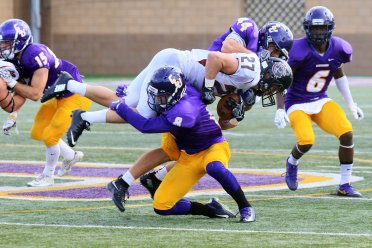 THOUSAND OAKS, Calif. – After jumping out to an early lead in front of a large Homecoming crowd, the Cal Lutheran football team came up empty in the second half and fell 27-12 against Chapman on Saturday afternoon at Rolland Stadium.
A 31-yard kickoff return by Jerome Hull on the first play of the game gave the Kingsmen some early momentum and five plays later, Chris Beeson ran into the end zone on a 28-yard rush to put CLU ahead 6-0.
The Panthers responded later in the first quarter with a 39-yard touchdown pass and took a 7-6 lead, but the Violet and Gold answered back to take a 12-7 lead heading into the break. Beeson found the end zone once more, this time on a one-yard play, to cap off a 13-play, 62-yard drive that lasted nearly six minutes.
The second half, however, was all Chapman as the Panthers capitalized on their first possession driving 88 yards on 10 plays, ending on a 33-yard touchdown pass from Ricky Bautista to Jacob Isabel. The Panthers added another score in the third and one more in the fourth to end with a 27-12 victory.
The CLU offense failed to gain any traction and was limited to just 284 total yards, its lowest output of the season. Chapman, meanwhile, compiled 401 yards of total offense.
Adam Friederichsen finished 9-of-20 for 140 yards while Bautista went 18-of-21 for 236 yards and three touchdowns in the quarterback matchup.
Beeson led the Kingsmen with 57 yards and two touchdowns and Richard Caceres led the Kingsmen receivers with four catches for 47 yards.
Joe Mudie led the Panthers with 30 rushes for a game-high 141 yards.
Defensively, Acquarey Eddington was all over the field with 14 tackles including a sack and two tackles to force a loss. Trevor Roe finished with eight tackles and Nick Gordon tallied seven.
Cal Lutheran (3-4, 3-2 SCIAC) will wrap up its home schedule next Saturday, Nov. 5 against Occidental at 7:00 p.m. for Senior Night.
Box Score: CU 27, CLU 12
CLU Instagram: http://instagram.com/clusports#
CLU Twitter: https://twitter.com/clusports
CLU Facebook: https://www.facebook.com/clusports