Kingsmen Run Through Whittier
CLU racks up 259 yards on the ground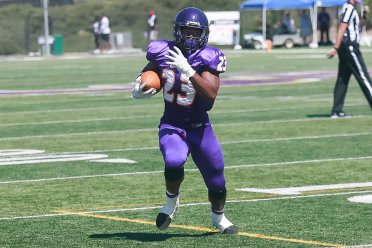 WHITTIER, Calif. – For the 16th straight game against Whittier, the Cal Lutheran football team came away with a victory after running all over the Poets 34-9 on the road Saturday afternoon. The Kingsmen now lead the all-time series 27-4.
For the second straight week, the Violet and Gold put up 34 points on the scoreboard while limiting their opponent to under 200 total yards of offense.
CLU wasted no time, scoring on their first possession after a 13-play, 76-yard drive was capped off with a one-yard touchdown run by Isaac Seymour. Quarterback Adam Friederichsen highlighted the early drive with an 18-yard scamper as well as a 13-yard pass to Chris Beeson out of the backfield.
Later in the quarter the Kingsmen doubled up their lead after Friederichsen connected with CJ Pride for a 42-yard touchdown pass.
On the Poets next possession, the CLU defense flexed its muscle as DeJon Rothschild, Tyler Hood and Acquarey Eddington got to the quarterback for two sacks and forced a three-and-out. On the punt attempt Ty Lozano sprinted in and blocked the kick, giving the Kingsmen great field position at the Whittier five-yard line. After losing three yards, Friederichsen took the next play eight yards for a touchdown to give CLU a 20-0 lead all before the first quarter came to an end.
Foorever Campbell found the end zone for the Kingsmen midway through the second quarter while Beeson capped of the CLU scoring in the third with a rushing touchdown of his own.
The Poets were able to muster one field goal and just one touchdown late in the fourth quarter. The Kingsmen limited Whittier to just 128 yards of total offense while piling up 446 of their own, including 259 on the ground. CLU forced eight punts and racked up eight sacks for a loss of 37 yards.
Friederichsen finished 15-of-24 for 187 yards and a touchdown while rushing for 40 more yards and another score. Campbell tallied a career-high 115 yards and Beeson finished with 82 yards on 14 carries apiece. Pride hauled in three catches to lead CLU and totaled 68 yards.
Defensively, Rothschild had a big game with three sacks for a loss of six yards and five total tackles, four of which forced a loss. Anthony Rios-Carlsen led the team with six tackles and Trevor Roe had an interception while finishing with five tackles. Eddington also recorded five tackles and added 1.5 sacks along with Hood.
Cal Lutheran (3-3, 3-1) will return to Rolland Stadium this Saturday, Oct. 29 to take on Chapman at 1:00 p.m. in the Homecoming game.
Results: CLU 34, WC 9
CLU Instagram: http://instagram.com/clusports#
CLU Twitter: https://twitter.com/clusports
CLU Facebook: https://www.facebook.com/clusports