Kingsmen Shut Out Stags
CLU hands CMS first loss of season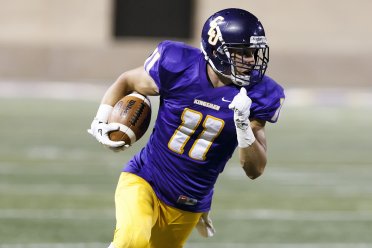 CLAREMONT, Calif. – One week after a tough home loss to Pomona-Pitzer, the Cal Lutheran football team bounced back in a big way with a 34-0 shutout over previously undefeated Claremont-Mudd-Scripps at Zinda Field on Saturday afternoon.
The Kingsmen handed the Stags their first loss of the season and topped CMS for the first time since 2013. The shutout is the first for CLU since it defeated Whittier 56-0 in 2011.
CLU got the scoring started with another big-pass play on just the fourth play from scrimmage. In what is becoming a recurring theme this season, quarterback Adam Friederichsen aired one out to wide receiver Aaron Lacombe for a 57-yard touchdown to give the Kingsmen an early 7-0 lead.
Early in the second quarter, the Violet and Gold capitalized on a botched punt attempt by the Stags, as Kris Turner-Jackson recovered the fumbled snap and carried the ball into the end zone for a 13-0 lead.
Right before the half, Nick Covey converted his third 22-yard field goal of the season to put the Kingsmen ahead 16-0 at the break.
In the second half, Friederichsen and Lacombe connected once more, this time on a 44-yard heave to extend the CLU lead to 22-0.
Another CMS miscue led to a Kingsmen touchdown as a muffed snap was picked up by Nick Gordon who trotted 35-yards for the score. Justyn Gutierrez added the icing on the cake with a 23-yard touchdown pass to Diego Hernandez in the fourth quarter to give CLU an insurmountable 34-0 lead.
Friederichsen completed 18-of-28 passes for 243 yards and two touchdowns, both to Lacombe, who finished with eight receptions for 155 yards. Hernandez and Jordan Pierce each caught three passes for 29 yards.
On the ground, Chris Beeson led the charge with 62 yards on 14 attempts and Foorever Campbell added 51 yards on six attempts.
Overall, the Kingsmen racked up 419 yards of total offense while limiting CMS to just 153.
Defensively, Trevor Roe recorded a game-high 11 tackles while Acquarey Eddington finished with eight, including two tackles for loss and a sack. Tyler Hood also registered eight tackles and had half a sack along with DeJon Rothschild.
Cal Lutheran (2-3, 2-1 SCIAC) will stay on the road for a matchup against Whittier at 5:00 p.m. next Saturday, Oct. 22.
Box Score: CLU 34, CMS 0
CLU Instagram: http://instagram.com/clusports#
CLU Twitter: https://twitter.com/clusports
CLU Facebook: https://www.facebook.com/clusports