Sagehens Stun Kingsmen
Pomona-Pitzer tops CLU for first time since 2004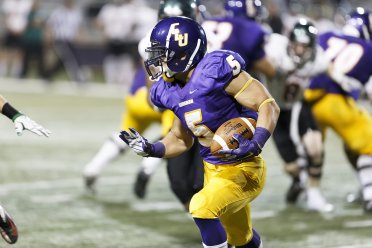 THOUSAND OAKS, Calif. – In Southern California Intercollegiate Athletic Conference (SCIAC) action on Saturday night, the Cal Lutheran football team dropped a narrow encounter, 31-27, to Pomona-Pitzer inside Rolland Stadium. For the Sagehens, it was their first win over CLU since 2004 and just their third since 1995.
After a series of turnovers by both teams at the start of the game, Pomona-Pitzer turned an interception into a touchdown three plays later to take a 7-0 lead.
The Kingsmen followed suit as Lucas Quinn intercepted a pass of his own and returned it 49 yards to the Sagehens 11-yard line. On the first play of the drive, Chris Beeson ran it into the end zone to cut the Pomona-Pitzer lead to one, 7-6.
On the very next possession, the Saghens capitalized on a big 44-yard pass play to break into the red zone and finished up the drive with an 18-yard touchdown pass to take a 14-6 lead. Pomona-Pitzer tacked on a field goal to make it 17-6 going into halftime.
On the first drive of the second half, the Violet and Gold marched down the field using a 10-play, 69-yard drive that ended on a 22-yard touchdown pass from Adam Friederichsen to Wendell O'Brien.
Pomona-Pitzer, however, answered back with an eight-yard touchdown run from Aseal Birir to take a 24-13 lead.
In jeopardy of letting the game slip away, the Kingsmen responded with 14 unanswered points to take their first lead of the game, 27-24, with 13:12 remaining in the fourth quarter. Friederichsen connected with top target Aaron Lacombe for touchdown plays of 22 and 64 yards to rally from behind.
After empty drives from both squads, Pomona-Pitzer found the end zone on a 47-yard pass play with 9:19 remaining.
Still with plenty of time on the clock, the Kingsmen offense worked its way down the field, running 11 plays for a total of 54 yards. Facing a third down with 20 yards to go, Friederichsen found Cameron James down the left sideline for a 19-yard gain to the Sagehens 10-yard line. On fourth-and-one, Beeson took it up the middle but the ball was marked short of the first down.
Looking to make a defensive stop, the Kingsmen had Pomona-Pitzer pinned on its own eight-yard line facing a third-and-12 situation. After a 30-yard heave, the Sagehens wide receiver Ryan McGee went up for the jump ball and came down with it. CLU kept up the defensive pressure and forced a fourth-and-one situation with two minutes left, but a rush up the middle was marked a first down sealing the game.
Friederichsen finished with 248 yards and three touchdowns on 15-for-32 passing while Sagehens quarterback Edward Sias went 16-for-30 for 254 yards and three touchdowns, in similar performances.
Beeson led the Kingsmen with 116 yards and a touchdown on 18 attempts. Lacombe finished with three receptions for 97 yards and two scores while Josh Mooney hauled in a game-high seven receptions for 72 yards.
Pomona-Pitzer was led by 166 receiving yards from McGee and 106 rushing yards from Birir.
Defensively, Nick Gordon finished with a game-high nine tackles while Quinn and Acquare Eddington tallied seven apiece. Trevor Roe also had an interception in addition to Quinn.
Cal Lutheran (1-3, 1-0 SCIAC) continues conference action against Claremont-Mudd-Scripps (4-0, 2-0 SCIAC) next Saturday, Oct. 15 at 1:00 p.m. on the road.
Box Score: PP 31, CLU 27
CLU Twitter: https://twitter.com/clusports
CLU Facebook: https://www.facebook.com/clusports
CLU Instagram: http://instagram.com/clusports#