Friederichsen, Settles Selected as AOW
CLU pair honored by conference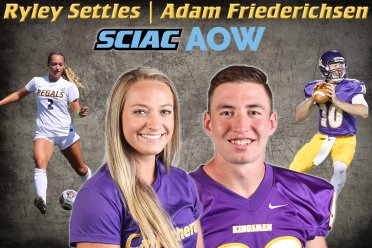 PASADENA, Calif. – Announced on Monday afternoon by the Southern California Intercollegiate Athletic Conference (SCIAC), Cal Lutheran student-athletes Ryley Settles, from the Regals soccer team, and Adam Friederichsen, from the Kingsmen football squad, were recognized as Athletes of the Week for their respective sports for their performance during the week of Sept. 26 – Oct. 2.
Friederichsen had a monster game on Saturday, leading the Kingsmen to a big 45-13 win over defending SCIAC champion La Verne. The junior quarterback completed 20-of-32 passes for 293 yards and four touchdowns, including a 62-yard touchdown throw on the fourth play of the game. In addition to his arm, the Westlake Village, Calif. native rushed for a game-high 126 yards while adding a 48-yard touchdown on the ground to start the fourth quarter.

This season, Friederichsen has accumulated 842 passing yards and eight touchdowns in three games while rushing for a team-high 180 yards.
Settles, meanwhile, led the Regals to a 3-0 week after scoring two goals, both of which went for game-winners. In non-conference action against UC Santa Cruz on Monday, the sophomore forward gave CLU a 1-0 win after knocking in the golden goal in overtime. To close out the week on Saturday, Settles also provided the lone goal in a 1-0 win over Occidental. This season, the Claremont, Calif. native is tied for team-high honors with five goals.
Friederichsen becomes the second Kingsmen to earn SCIAC Athlete of the Week honors in 2016 after men's water polo player Chris Gardhouse (Sept. 12-18)was honored earlier this fall. Settles earned her second recognition this season after she was honored alongside Hope Stewart (Sept. 5-11).

The Cal Lutheran women's soccer team (9-1-1, 4-1-1 SCIAC) is winners of three straight matches and will take on Whittier this Wednesday, Oct. 5 at 7:00 p.m. while Kingsmen football (1-2, 1-0 SCIAC) will host Pomona-Pitzer this Saturday, Oct. 8 at 7:00 p.m., both inside Rolland Stadium.

Release: Football Athlete of the Week
Release: Women's Soccer Athlete of the Week
CLU Twitter: https://twitter.com/clusports
CLU Facebook: https://www.facebook.com/clusports
CLU Instagram: http://instagram.com/clusports#