Long Ball Propels CLU Past Panthers
Boggan launches game-winning homerun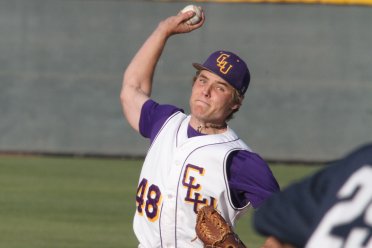 THOUSAND OAKS, Calif. – Tied at five in the bottom of the seventh, Nick Boggan launched his fourth homerun in five games well over the 370 feet sign on the right field fence and gave CLU the lead for good as Cal Lutheran defeated Chapman 7-5 Friday afternoon at Ullman Stadium. The Kingsmen pounded out 13 hits against the Panthers marking the eighth time in nine games they have surpassed 10 or more hits.
After a one-two-three inning from starting pitcher Jake Petersen, the Cal Lutheran offense went right to work in the bottom of the first. Ronnie Burton reached on an error to start the game and then Nicho DellaValle singled into right field to put runners on first and third. Three-hole batter Trevor Koons then hit a chopper to the shortstop, driving in Burton for the first run of the game. Boggan followed by reaching on an error and Nick DeLorenzo brought in DellaValle to put CLU up 2-0.
Chapman answered with a two-run double from John Wiehe and an RBI single by Eddie Aguayo in the top of the second to take the lead at 3-2.
Cal Lutheran continued the back-and-fourth affair, scoring two runs on three hits and retaking the lead in the bottom of the third. Boggan led off with a single and was then brought in on a triple to right-center field from Kevin Leonard. A batter later, Mike Vinyard grounded out to the shortstop, driving in Leonard and put CLU up 5-4.
The Panthers would score a run to tie the game in the top of the fifth while holding the Kingsmen scoreless from the fourth inning to the sixth.
With one out in the bottom of the seventh, Boggan hit a no-doubter over the right field fence, putting CLU up 6-5. Later in the inning, Garrett Smith singled with the bases loaded, scoring Petersen for the insurance run.
Aaron Roth came on in the bottom of the seventh and retired seven straight including four strikeouts to close out the game for CLU.
DellaValle led CLU with three hits while Boggan, Koons, and Leonard each had two.
Petersen went 6.1 (1-0) innings allowing six runs on seven hits while Roth (1-1) came on for the final 2.2 and earned the victory.
Chapman starting pitcher Justin Hanks (1-1) took the loss after pitching 6.2 innings and allowing seven runs on 11 hits.
Cal Lutheran (6-3-1, 3-1 SCIAC) is back in action tomorrow, March 2, when it travels to Orange, Calif. to take on the Panthers in a doubleheader to round out the series. First pitch is set for 11:00 a.m.
Box Score: CLU 7 CU 5
Facebook: www.facebook.com/clusports