Meet the SAAC Feature: Sinjin Todd
Hard work, quick feet, strong arm, fast bat; these are the keys for success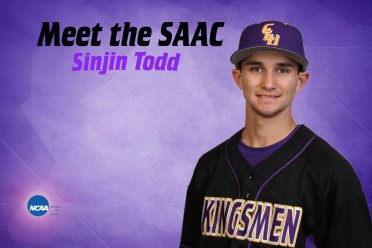 THOUSAND OAKS, Calf. - In order to create a solid team, a coach looks for certain characteristics in a young baseball player. "If you have the best physical attributes for an athlete: bat speed, arm speed, leg speed, then you become a good athlete and good athletes win games," says head baseball coach Marty Slimak.
The winningest coach in CLU history, Slimak says that the perfect projected high school baseball player is around 6-foot-2 and 185lbs. A great college athlete to go to the professional level is 6-foot-3 and 205 lbs., similar to Jake Peterson who was drafted from CLU in the 33rd round last season, standing 6-foot-4 and 205 lbs.
Which bring us to current Kingsmen baseball player Sinjin Todd,who stands 5-foot 5 and 145 lbs.
"He is a little undersized in that aspect but he makes up for it, especially at our level, because of his leg speed, bat speed and arm speed," says coach Slimak. "He has all the tools, except for size, but that's never stopped him and that's the best part, it's never stopped him. He is very driven."
Todd developed this motivation to compete in between his junior and senior year at San Luis Obispo High School. On the varsity baseball team his junior year he wanted to play and start his senior season, this in part, created his love for the game.
"I found out how much I loved baseball, just by how hard I worked to get there."
Now the determined sophomore has a new goal, to overcome how the last Kingsmen season ended.
Ranked No. 17 in the nation, the Cal Lutheran baseball team hosted the Southern California Intercollegiate Athletic Association (SCIAC) Postseason Tournament. The winners of the regular season crown, the Kingsmen faltered in the final game against La Verne and did not receive an at-large bid to the NCAA playoffs.
For Todd, this is his motivation.
"It made me realize that even though we were good and we were ranked, we couldn't take for granted that we could move on from there because we didn't get a bid and were not able to move onto a regional."
Todd has been putting the work in to be the starter this upcoming season, and his teammates have noticed . Fellow outfielder and First Team All-SCIAC selection Ramsey Abushahla says that, "Yes, he does not have the size but what he lacks in size he makes up for it in the weight room. He's in there twice a day. I saw him on the way to the gym today, after we had morning weights, that's just the kind of guy he is."
Being second to none in work ethic, it may be a surprise to some that he isn't the loudest on the field.
Coach Slimak notes that although, "He's very quiet, he doesn't say much but when he does, when he gets fired up or has something to say, everyone just shuts up and listens."
Whether he is fired up on a play or thinks something organizational needs to be brought to attention, Todd commands the ears of his teammates and his coaches. Being a quieter teammate has its advantages in that regard.
"You don't have to be a ra-ra guy to be a leader, you do it by example, which he does, he's always hustling, first guy at practice and last to leave," says Slimak. "He's doing all the things that a leader has to do, he's just not boisterous or overly emotional. But when he does talk everyone listens."
Abushahla agrees, "He's very quiet and very intense, anything he does he's not giving it 50%, he's doing it 100%. That's what really impresses me about Sinjin. You can see it in his eyes, he will get animated about what he's talking about. He's a very smart kid, just a little quiet and reserved."
The CLU outfield depth is deep, right field is anchored with First Team ABCA All-West Region right fielder Ramsey Abushahla, 2015 SCIAC batting average leader Nick Cohan in left, and the dominating defensive presence in center field with a perfect fielding percentage in Justin Caña.
Abushahla acknowledges the tricky situation that Todd is in, "As an outfielder he's just lights out, he could play centerfield anywhere in our conference, for him it's just tough with our outfield situation. You can't go wrong with any of those guys, Sinjin is one of the most talented guys on the team."
Without a doubt, Todd will get his chance this upcoming season if he stays healthy and continues his rigorous preparation.
Fun things to know about Sinjin:
Favorite Ice Cream flavor: Green Tea Ice Cream
Prettiest place on campus: The baseball field at sunset
Apple or PC: Apple
Who would play you in a movie: Gerard Butler
Favorite CLU memory: Winning SCIAC title freshman year
CLU SAAC: http://www.clusports.com/pages/saac.php
CLU Baseball:http://www.clusports.com/baseball/
CLU Instagram: http://instagram.com/clusports#
CLU Twitter: https://twitter.com/clusports
CLU Facebook: https://www.facebook.com/clusports